Some people go to Las Vegas for vacation. Others to the Caribbean. I recently deplaned from my vacation to scenic Okemos, Michigan, just next door to East Lansing, Michigan, and new home of Ben, my friend of almost 20 years, whose wife works at Michigan State University.

As an introductory note, I believe that Michigan State's motto should be "Home of the 7 or 8." Per capita, East Lansing had some of the best looking college female talent I've seen on the various college campuses I've been to. There aren't 10s, you never really find yourself gawking in amazement, but Michigan State wins the consistency award for the most steadily highly attractive "talent" I've seen on any college campus.

On to what matters... the sports geek's review of my trip to the Lansing Metropolitan Area.

THURSDAY NIGHT: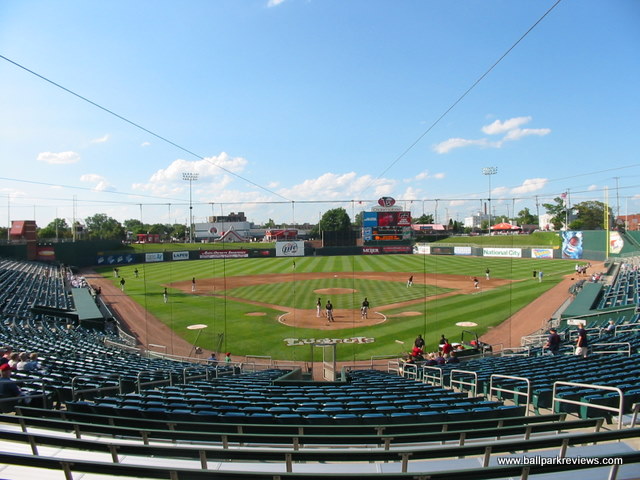 So we went to see the Lansing Lugnuts (low-A affiliate of the Blue Jays) host the Fort Wayne Wizards (low-A affiliate of the Padres). However, the Lugnuts do call Carlos Zambrano and Jason Simontacchi alums, among a few other current major leaguers. The Lugnuts play in Oldsmobile Park. This should give you an idea about the town of Lansing... the ballpark is named after a brand of automobile that was discontinued in 2004 which the town prided itself on being the home of. Who knows if GM had signed a long-term naming deal when the park was built in 1996 and they're stuck with Oldsmobile Park. Nevertheless, the stadium is named after a defunct car manufacturer. It also happened to be Thirsty Thursday at Oldsmobile Park. Nothing to help the residents of a city with a 5.4% unemployment rate whose major factories have all pretty much shut down feel less depressed than $2 draft beers all over the ballpark. However, this also accomplished the feat of drawing half the MSU students who stayed on campus for the summer out to the ballpark (hence part of the knowledge base of the 7s and 8s). I will say this for Oldsmobile Park... it's a gorgeous place for a low-A team and for $9, we sat 6 rows from the field in between home plate and the dugout. The park definitely looks like it's designed to someday draw a higher-level minor league team. But on to the Lugnuts. First off, you should know that they actually have a song in the tradition of "Hail to the Redskins" and "Meet the Mets." One of the verses is as follows:


This is our town.
This is our team.
If you're up against us
You're gonna get creamed.
Just stick around,
See what we mean.
Get ready to yell
Get ready to scream.
Ready to scream, ready to scream,
Ready to scream, see what we mean.
You gotta Go Nuts, Go Nuts, Go Nuts, Go Nuts
Lugnuts, Lugnuts, Lugnuts, Lugnuts
So yes. A truly wonderful song developed by the best jingle writers in Central Michigan. I recommend going to lansinglugnuts.com and listening to the real song to understand just how campy the whole thing is, complete with electric guitar interludes. If you're fortunate enough to go to Oldsmobile Park, you should hear it about three times during your stay.
Also, while at Oldsmobile Park, I received Lesson #1 of the weekend... I learned it's probably better to not say out loud in Lansing that the Lugnut mascot looks worried because he just heard about how much more reliable and affordable Japanese cars are.
FRIDAY:
So Ben and I spent pretty much the entire day on Friday walking around the campus of Michigan State. Which, for a sports fan, means finding the sports venues on campus and trying to get into them. We were successful on both accounts.
Truly a Big 10 Stadium, this stadium was not so impressive on the inside, not so impressive on the outside, but when full, can probably make an insane amount of noise. 3 sides of the stadium are totally decrepit, the concourses are crazily narrow, and it in general makes RFK Stadium look modern. However, one side of the stadium has been renovated so ESPN can get their all-important exterior shot. The other running joke was how an agricultural school like MSU used Astroturf on their football stadium (see above picture). All that finally changed a few years ago when the stadium went to natural grass. Of course, the downside to that is no more outdoor NCAA hockey games that draw over 75,000 people. The stadium seats 76,000 hardcore, green-wearing football fans. Immediately when you enter the stadium, the thing that you notice compared to Byrd Stadium (besides the size) is how everything in the stadium is in school colors of green and white. Byrd really needs to at least paint the roofs red and ditch the Carolina blue roofs. Spartan Stadium all in all was not as impressive a stadium as the Big House, but given that it is a very tall stadium that is closed on all sides means that it probably gets insanely loud in Spartan Stadium. I'll bet the stadium serves its purpose just fine, even if it's decrepit.
Breslin Center


So like all college hoops junkies, I was very interested to see the Breslin Center, home of MSU basketball. A nice-sized arena where as you can see above, the students surround the court. However, just like Comcast, the top seats are very high above the action and I'm sure that the people in those seats feel just as detached from the action as the people sitting in the 200s do at Comcast. Breslin does have trophy cases that contain such things as folding chairs from the benches of the arenas at all the Final Fours (so the folding chair has the Final Four logo), and a few other neat things. However, it doesn't have the floor from the 2000 Final Four unlike Comcast Center which has our national championship winning floor. Also, no giant trophy case which is a great landmark for Comcast. I didn't expect it to be Comcast in terms of newness or amenities, but when you win a National Championship, I think it needs to be the centerpiece of your arena. I can, however, see why it is one of the more intimidating places to play in the Big 10.
While at Breslin, we had an experience that any sports fan would understand... one of those experiences that leaves you excited but that excitement just doesn't carry over when you relay the story to your significant other. As we're walking into Breslin, we practically bump right into Tom Izzo, who looks much younger in person than on TV and is a very friendly guy, saying hello to everyone in sight as he leaves his office. Then, as we left Breslin, we saw Tom Izzo again, this time getting into his shiny silver Lexus with his wife and daughter. Of course now, he definitely shot Ben and I the "why the hell are you stalking me, you goddamn weirdos" look and zoomed past a stop sign and right into the crosswalk where we were standing. It's relieving though to see that traffic laws are optional for all big-time college coaches. Gary doesn't necessarily have to abide by DUI laws, so Tom Izzo shouldn't necessarily have to abide by stop signs.
On the outside of Breslin, they have the oddly-designed Magic Johnson sculpture, as seen at left. Of course it's Magic during his playing days, so they couldn't help but include him with a giant fro. But Ben and I, for the life of us, couldn't figure out what it was at the bottom of the sculpture that Magic is escaping from. Lesson #2 of the Weekend... not a good idea to theorize at Breslin Center with a few MSU staff members around that maybe those bodies represent the groupies who Magic had unprotected sex with. I'm pretty much unsure that Ben will ever go anywhere again with me.