I know this blog focuses on the major sports like football and baseball, but it's time to give a little credit to one of the best male athletes of the decade, Roger Federer. His record since the start of the 2004 season is 290-20 in singles matches, which has translated to 40 titles and 10 other finals appearances. 10 of those 40 titles have been majors (that's 10 of 15, and he's in the semis at the US Open). You may have noticed that he has won 40 of the 60 tournaments he's entered, finished 2nd in another 10, leaving only 10 with less impressive finishes. That's a 66.7% winning percentage. At 26, he has already set a new record for consecutive weeks at #1 (over 3.5 years), and is close to many of the grand slam records. The only blemish on his record is the lack of a French Open title, where he's been in the finals the last two years.

This is an incredible record of dominance in a very international, competitive sport. For comparison, Tiger Woods has 25 victories over the same period, including 5 majors, over a larger number of events. I think it's quite fair to state that Federer is the most dominant active male athlete in an individual sport. Federer's record is even more impressive when you consider the rigorous physical demands of tennis (flabby Phil Mickelson of a couple years ago wouldn't last a set).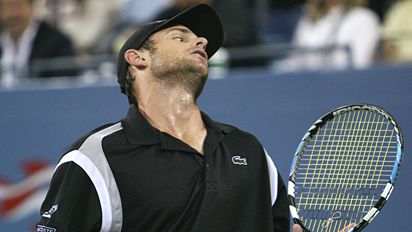 Meanwhile, American tennis has bottomed out. After another loss at the hands of Federer, Andy Roddick has failed to win much of anything since the 2003 US Open. Only Venus Williams made the semis of this year's Open. Long gone are the glory days of John McEnroe and Jimmy Connors, Arthur Ashe and Chris Evert, Pete Sampras and Andre Agassi. Americans used to be among the best in the world. Even the forgettable Jim Courier spent a year at #1 in the 90's. The best American men this year are Roddick and James Blake. Roddick continues to be one of the best of the rest, while Blake finally broke his 0-9 streak in 5 set matches only to lose shortly thereafter. On the women's side, only the Williams sisters perform well, exclusively as a result of incredible natural talent. Yet laziness has kept either of them from staying at the top of her game for very long, allowing a woman with much less physical ability to surpass both of them. Justine Henin (5'5" and skinny) is #1 and has beaten Serena at all three majors they have both played this year. She will have the opportunity to show Venus the exit as well. It's sad to see such a waste of talent as the Williams sisters. Unfortunately the future is bleak as well, with no significant American star power on the horizon. Only the Bryan brothers in doubles represent American tennis well (#1 in men's doubles, 4 majors since 2005).