So my gloom about the Maryland game on Sunday was partially erased today, when I was one of the lucky few to jump online and snatch up two of the tickets the Nationals made available for Opening Night at the new Nationals Ballpark, set for Sunday, March 30, 2008, against the Braves. I have read about people who had nightmares logging into the ticket system... all I can tell you is I logged in right at 9, was in the "waiting area" for about 45 seconds, them the ticket ordering screen popped on and I grabbed my two tickets. I should've maxed out at 4 and profiteered on Ebay (tickets in the hundreds of dollars currently)



As you can see above, the ballpark is quite unlike any others in the majors. For those of you familiar with D.C., the exterior of the park plays on the architecture of DC, using limestone, marble, and glass to fit into the federal style of architecture so common to the District. As you can also see at left, the Park is 13 blocks directly south of The Capitol Dome. Those with seats along the rightfield line will have a great view of the Dome. Unfortunately the stadium could not be built with an outfield opening up oriented towards the monuments, as that would cause home plate to face due west, an unappealing situation for a sport where 90% of the home games would have the first few innings played around sunset.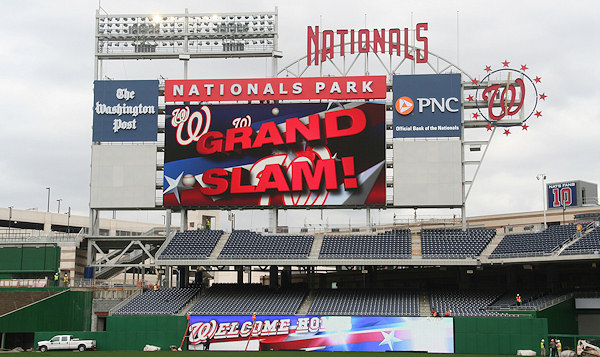 That is the Jumbotron at Nationals Park. I think by calling it a Jumbotron, you're doing it a disservice. The thing is the largest HD scoreboard at any professional sporting venue in the United States. Just look at that picture from their testing today. It looks like something you'd see on Playstation. Doesn't quite look real. It also looks like the Nats are retiring the number 10 like the Seahawks retired the number 12 (10th man for baseball = 12th man for football). Not quite sure how they can do that with Ronnie Belliard still on the team wearing #10. Maybe when he's inducted into Cooperstown they'll really retire the number 10.
Anyway, I am psyched. I always thought about those lucky people who were at Camden Yards the day it opened. I still think about those people on the rare occasions I opt to give Angelo$ money and see Nats games at Camden Yards. Now I'll be one of those lucky few to have stepped foot in Nationals Park the evening of the first ever game played there. It'll be a hell of a night.