With Memphis losing to Tennessee on Saturday, we're sure to go another season without an undefeated D1 men's college basketball team. The last team to accomplish that feat was the 1976 Indiana Hoosiers.

There hasn't been a perfect season in either the NFL or college basketball in over 30 years, though there have been close calls in both sports. The Patriots this year made it to the Super Bowl with a perfect record, and the 1985 Bears won the Super Bowl and only had 1 regular season loss. In NCAA basketball, the closest call was the 1991 UNLV Running Rebels who were huge favorites over Duke in the finals but lost. Larry Bird's 1979 Indiana State team was undefeated until they lost to Magic Johnson and Michigan State in the finals.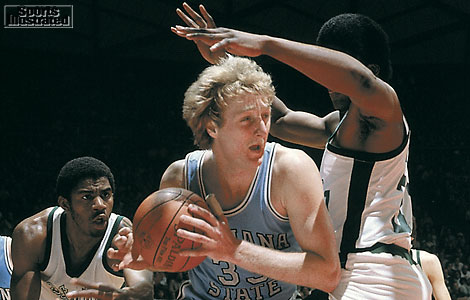 The 1972 Dolphins were the only team in the Super Bowl era to post a perfect record, and just the fourth perfect NFL team overall. The '76 Hoosiers were the sixth team
since the inception of the NCAA tournament
to go undefeated (following the incredible back-to-back '72 and '73 UCLA seasons). Before I wrote this post, I would have guessed that there were far more undefeated college basketball teams, but when you go beyond the Super Bowl era, things even out a bit. If you leave out the supernatural UCLA run, the two sports have remarkably similar histories of unbeaten teams.
The NFL unbeaten record only seems to be more difficult because of the insufferable '72 Dolphins. If we had to endure Quinn Buckner popping champagne and appearing on sports radio every season like Mercury Morris, the Hoosiers record might loom larger. The hype shouldn't matter when deciding which accomplishment is more difficult.
To go undefeated in the NFL today, a team needs to go 19-0. To go undefeated in college basketball, a team would have to go 40-0 (plus or minus a few games). Many of the basketball games would likely be against bad teams, including the first round of the NCAA tournament. In the NFL, there are some easy games, but none as easy as a big-time school's non-conference schedule. Still, 40 games without a loss is impressive even if you're playing the Washington Generals.
The NFL season ends with the playoffs, which for the top seeds involves three tough games in four weeks. The college basketball season ends with a 65 team tournament where the winner will have played six games in three weeks. Football is a more physical sport, but keeping up a level of play through the NCAA tournament is impressive under any circumstances.
In the end, going undefeated in either sport is an incredible achievement, especially with the level of play in this day and age. But for a team of college kids to maintain perfection over a 40 game season, with the distractions of class, finals, and college girls is even more impressive than a perfect NFL season.