So I just got back from the Maryland-American basketball game. That's two straight home games I've attended... Ohio, and AU. Two straight home, non-conference, shocking losses.
Last game I booed. I posted on that. You all said your piece.
Last game I laughed at the end of the game because there was nothing else that could be done.
Today, I punched a trash can on the concourse at the end of the game so hard, it sent a boom echoing through the corridor and a couple hundred people looked at me like I was crazy. Today, I sat there stunned, thinking that I never thought I would see a Maryland basketball team that sunk to this level.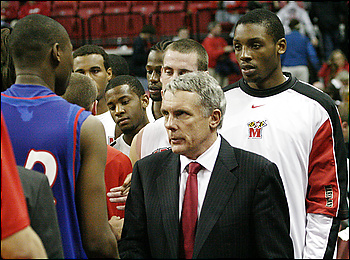 That's right Gary, your boys got beat by a bunch of nobodies from American. That school that you coached 25 years ago. You may remember it.
People say that maybe the lesson from this game is that we all know just where our expectations should be. That's horseshit. Total horseshit. We are the fucking Maryland Terrapins. We pay our coach seven figures. We have one of the nicest college basketbal facilities in all the land. There is no goddamn way we should EVER have to adjust our expectations to be this low... to lose to a fucking middle-of-the-road Patriot League team that has already lost to Morgan State and UMBC this year.
Where to go from here? Well I think we can all agree it's time for Gary to either earn his salary, stop spending so much time at Dewey and recruit, or leave. Decision time. You're not getting fired, Gary. You've earned the right to go out on your terms. But your legacy is on the line right now. I think we can all agree that it's time for Greivis Vasquez to be benched until he learns to play with control, within an offense, and smartly. 27 points doesn't mean crap to me if you commit so many turnovers and bonehead plays you've given up 10-15 points the other way. I think we can all agree that Gist and Osby are having the most disappointing years of any senior since Exree Hipp.
Gary tells us in his post-game radio address to not blame the players... to blame him. Well at this point, I'm blaming EVERYONE, Gary included. I understand Gary can't call out the players or risk losing his team. But at what point does he do it? I mean, we're seriously on pace to be lucky to win one ACC game this season. Where did this come from? Caner-Medley, McCray, and Strawberry weren't that good.
I'm pissed. I'm furious. I'm upset. I'm depressed. The Maryland Terrapins just got blown out in their own building by American. Something's gotta give.