Courtesy of Dan Steinberg's alway's wonderful DC Sports Bog, the following nugget came to my attention today:

2009 full season ticket holders received their gift from the Washington Nationals. Each year, the team rewards it's loyal season ticket holders with a gift. For example, last year each season ticket holder was given a replica model of the new Nationals Park in honor of the inaugural season there. This year, season ticket holders who were anxiously awaiting their gift found this: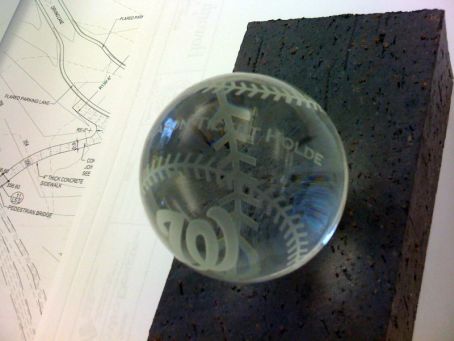 Nationals season ticket holders, if you guessed that your gift would be a crystal baseball mounted on a slab of oddly-colored marble commemorating your season ticket loyalty, you were correct!!

While over at the Nationals Ballpark Guys message boards there is a discussion over more appropriate engravings for the ball (for example: "Rock Bottom" or "Randy Johnson 300 Wins"), I have a better discussion to start...


MEMORANDUM:


TO: S. KASTEN

FROM: EAST COAST BIAS



SUBJECT:

MORE APPROPRIATE GIFTS FOR 2009 WASHINGTON NATIONALS SEASON TICKET HOLDERS
Stan:
It has come to our attention that some season ticket holders are dissatisfied with this year's season ticket holder gifts. Therefore, we propose supplementing their gifts with your choice of the following:
1) A flask so they can drink away the pain.
2) A copy of the
Sports Illustrated
story on Bryce Harper (Google him, Stan... I'm sure that Mike Rizzo hasn't told you about him yet) which will give some hope that IF Harper goes to JuCo early, the Nationals will draft him too (he's also represented by Scott Boras... sorry).
3) Scott Boras' personal phone number and home address so that they can harass him into getting Strasburg to sign
4) Aaron Crow voodoo dolls
5) A free one-year lease on an empty storefront in the Lerner-owned White Flint Mall (based upon occupancy rates at White Flint and the season ticket holder numbers, this should be possible).
6) Being added alongside Bill Cosby and Barack Obama on the sign at Ben's Chili Bowl reflecting people who eat for free.
7)
Their own personal firework remnant
.
8) Ten minutes alone with
Clint
, armed with your choice of nunchucks, a baseball bat, or a dull meat cleaver.
9) Being allowed to pitch the eighth inning in the game of their choice (even Manny Acta thinks this could have the side effect of significantly improving our record).
10) Grief counseling.
(feel free to add your own in comments)