The NBA announced today that it will begin fining players in clear cases of flopping. This is clearly a great idea, because flopping is a scourge on the face of basketball. The NBA has been out in front of this issue for a few years, starting with the creation of the no-charging semi-circle under the basket. The NCAA, and in particular the ACC, could learn something from the NBA in this regard.

The first thought that jumped into my mind when I heard about the new rules was "No wonder Coach K didn't take the Lakers job!" In 2004, the Lakers offered Coach K the head coach job to replace Phil Jackson. Krzyzewski turned down the job, claiming that he loved Duke too much to take a $40 million deal to coach one of the premier franchises in professional sports.

While that sounded like something so stupid only a Dookie could say it, something didn't sit right with me. Various explanations floated around the Internet, with some claiming that Coach K was worried about tarnishing his legacy like Rick Pitino. Others claimed that his coaching tactics wouldn't work with professional players. None of that seemed like an adequate explanation for turning down $40 million, until today.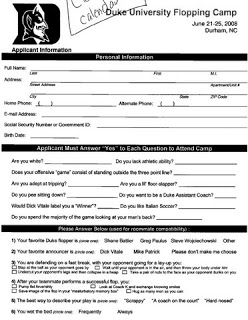 Coach K's Duke teams have always been known for flopping. Dick Vitale might call it "taking a charge" and Mike Patrick might claim that the floppers are "sacrificing their bodies for the team" but any fan can see, it's a ploy to get a foul called. Referees in the ACC are so bad about calling charges that any fast break is guaranteed to have a defender flying to the floor in an attempt to get a call.

Coach K works over the referees enough to get more charges called than most teams, so obviously he has a vested interest in the status quo. Teaching his players to flop is a core part of his strategy. A change to the rules penalizing flopping with fines would be devastating to Coach K's entire methodology.

Obviously Coach K turned down the Lakers job because he had advance knowledge that the NBA would change the rules to crack down on flopping. That's the only explanation that makes turning down $40 million not totally insane.