December 26, 2009
I heard RichRod just boarded a plane for Gainesville.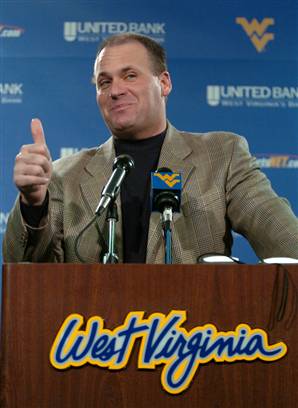 I invented the spread offense and taught Steve Slaton how to run.
Contributed by J-Red at 12/26/2009 08:58:00 PM 4 Responses Links to this Post  

Tag That: Florida Gators, Michigan Wolverines, Rich Rodriguez, Urban Meyer
After being dismissed from practice on Friday by head-coach-for-now Jim Zorn, the Washington Redskins' biggest free agent acquisition, DT Albert Haynesworth, decided to vent a bit to the Washington Post. One quote was quite telling, with Haynesworth saying he couldn't "survive another season in this system if it stays the way it is."
That puts the Redskins in an interesting, if not difficult, situation. The Redskins are inches away from signing Mike Shanahan to a GM/player personnel role. That would almost certainly signal Zorn's departure, but two members of the defensive staff have generally been well regarded. Defensive coordinator Greg Blache would have been a strong candidate to replace Zorn if it weren't for his self-imposed media exile earlier this season. Secondary coach Jerry Gray served as Blache's mouthpiece, and actually has already interviewed for the coaching position.
Leaving aside whether Gray's interview was just intended to satisfy the Rooney Rule, Haynesworth's comments cast doubt on whether a Gray-coached team could include Blache. In Gray's limited public statements, it seems clear that he would not tolerate any public dissension or criticism of coaching decisions. Given Haynesworth's price tag, and more importantly signing bonus, cutting him is not a viable option.
In effect, Haynesworth might have done two highly damaging things to the Redskins. First, they have to time Zorn's firing so as to not appear to be catering to Haynesworth. Second, they probably cannot entertain giving Gray an "interim" tag for the final game as a one game audition.
Many observers thought the Haynesworth signing was unwise, given the team's deficiencies at offensive line. Many observers questioned his ability to stay on the field given his face stomp incident with the Titans. I don't think many saw him throwing his coaching staff under the bus with two games to play. It will be interesting to see if he sees the field against Dallas on Sunday.
Contributed by J-Red at 12/26/2009 08:43:00 PM 4 Responses Links to this Post  

Tag That: Albert Haynesworth, Dan Snyder, Mike Shanahan, Washington Redskins
December 24, 2009
This post is sponsored by Sportsbetting.com, the best place for sports betting online.

Jason (34-41-0)

I guess 3-2 counts as a good week these days.
Kansas City (+14) over CINCINNATI - I think the Bengals are still trying to recapture their early season magic, and KC has been very successful against the AFC North.
NEW ORLEANS (-14) over Tampa Bay - Now that the Saints have lost, I think they want to dispatch TB and secure home field.
MIAMI (-3) over Houston - Miami still has playoff hopes and Houston is as inconsistent as ever.
PHILADELPHIA (-7) over Denver - Philly is clicking and Denver is slipping fast.
Baltimore (+2.5) over PITTSBURGH
- My fellow Ravens fans fear Pittsburgh more than anyone, but I don't think Pittsburgh is cohesive right now. When your coach promises to "unleash hell" and then loses to Oakland, it's safe to assume he can't motivate the team.

Jeremy (32-43-0)

Good luck to Brien who knocked me out of the playoffs in our fantasy football league last week. And screw you, Brett Favre, for that abysmal performance against Carolina.
San Diego (+3) over TENNESSEE
- Not so sure I understand this line aside from the short week and travel adding up to trouble for the Chargers. Maybe because they've essentially clinched the first round bye?
INDIANAPOLIS (-5) over New York Jets
- The Colts are motivated for 16-0 right now. Trust me. They're not ready to rest just yet. Maybe next week.
Tampa Bay (+14) over NEW ORLEANS
- Saints will win, no question. Just not willing to pick them to cover 14 against an improving Bucs team.
Baltimore (+2) over PITTSBURGH
- Granted, it was Detroit and Chicago, but the Ravens are on a real roll, are playing great ball and can more or less lock up a playoff spot.
PHILADELPHIA (-7) over Denver
- The Linc isn't an easy place to play in December and the Broncos are swooning.

Magic 8 Ball (34-41-0)

TENNESSEE (-3) over San Diego - "My sources say yes." (Titans will beat the spread)
New York Jets (+5) over INDIANAPOLIS - "No." (Colts won't beat the spread)
Tampa Bay (+14) over NEW ORLEANS - "Don't count on it." (Saints won't beat the spread)
Baltimore (+2) over PITTSBURGH - "My answer is no." (Steelers won't beat the spread)
PHILADELPHIA (-7) over Denver - "Signs point to yes." (Eagles will beat the spread)

Brien and Russell are taking the week off to reassess their lives and wives.

Recap
Jason: BAL, KC, MIA, NO, PHI
Jeremy: BAL, IND, PHI, SD, TB
Contributed by J-Red at 12/24/2009 11:41:00 PM 2 Responses Links to this Post  

Tag That: Degenerate Gambling, NFL Picks