ESPN reported today that Jeff Jordan, the son of Michael Jordan, has chosen to leave Illinois' basketball program. Jordan, originally a walk-on, was slated to receive more than the eight minutes a game he averaged in last season, his sophomore campaign.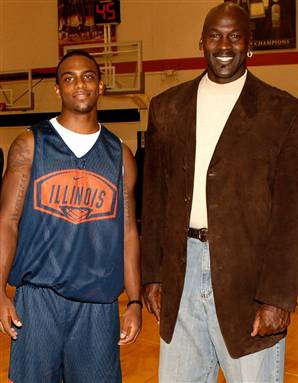 Jeff Jordan faced enormous pressure playing basketball in the same state his father brought six NBA championships. Illinois had put him on scholarship after his freshman year, and the easy thing for Jeff would have been to take the (taxpayer) money and play out his college career.
Instead he chose to free up a scholarship and finish college as a student. Assuming there is nothing more to this story, I am impressed that Jeff had the courage to walk away despite the spotlight of his father's fame and the probably unrealistic expectations of casual fans.
I wish Jeff luck with all the tail the son of a half-billion-dollar-holding greatest-athlete-of-all-time can handle. Perhaps a transfer to USC, LSU or the College of Charleston would be best for your academic career.
College of Charleston topless coeds
Seriously, Jeff, don't sleep on College of Charleston.