[Post 1500!!!]
I'm not going to dwell on the Ravens 23-0 drubbing of the Redskins tonight, since it is the preseason after all. Evaluating the Redskins without Clinton Portis and Santana Moss is a bit unfair. Still, the Ravens do appreciate the Redskins coming up and standing around so we could run our practice.
I mean, at least the Skins spelled their own veterans' names correctly on their jerseys.
Oh wait...
Colt Brennan was the darling of last year's Skins' preseason. He compiled an impressive 36 for 53 with 411 yards and three touchdowns to no interceptions. Given that Jason Campbell has struggled at times and generally been uninspiring, many D.C. fans wondered if they had the answer holding the clipboard.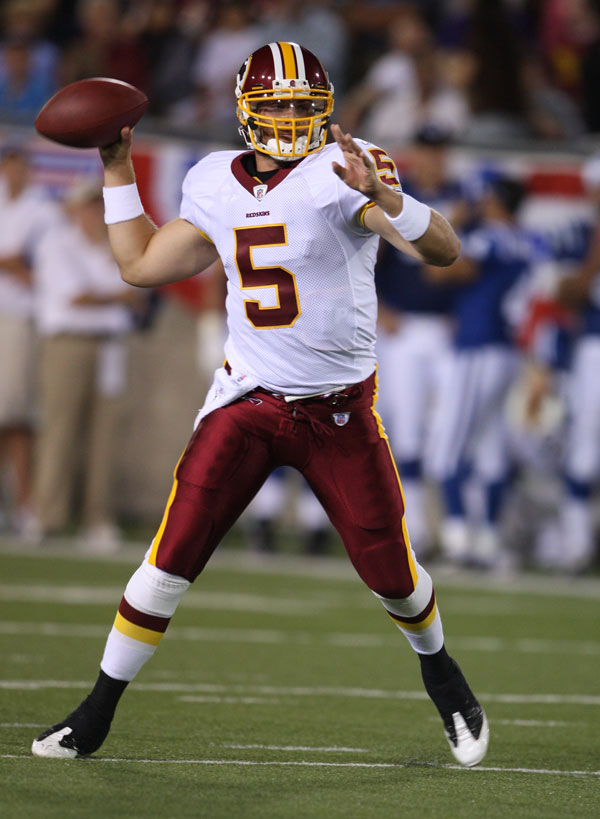 Brennan played the second half of tonight's shutout loss to the Ravens. He looked uncomfortable, often turning into pressure instead of sliding around it. He had a couple decent scrambles, but threw a bad interception and looked indecisive. He rang up a pretty putrid 4 for 12 for 43 yards and the pick.
I have a theory. After being dismissed from Colorado after his redshirt 2003 season for entering a female coed's dorm room and exposing himself, Brennan transferred to Saddleback College in California and led them to a conference championship [Shameless plug: I will be covering issues like this on my legal blog,
The Law on Campus
]. He then transferred again to Hawaii, where he started three straight years and broke a handful of NCAA records. He transitioned into the Redskins third-string job as a rookie and was by far the most impressive Skins' quarterback of the preseason.
It is possible that Brennan simply had a bad game. My personal theory is that the disruption of being a four-year starter and then not playing at all for literally 11 months might have thrown Brennan. Perhaps he has knocked off some rust and his instinct will come back to him over the next three weeks. On the other hand, if I am right do you really want him coming off the bench in the second quarter of a November NFC East contest?
We'll see.
Other game notes: All three Ravens QBs threw for over 100 yards according to the box score. Flacco and John Beck each had just over 100 yards and Troy Smith accumulated 200. Fifteen different Ravens caught passes. Derrick Mason did start despite recently injuring a finger.