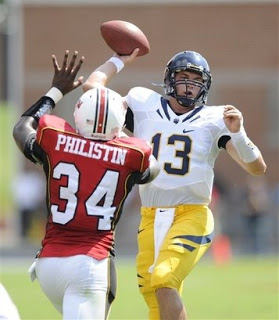 I think I speak for all Maryland fans when I say we didn't see this coming. I didn't talk to anyone who thought the Terps had a shot at winning the game. Most people thought the 14 point spread wasn't big enough.

To understand why this game came as such a surprise, let's review what happened the past two weeks:

Maryland beat 1-AA Delaware by 7.
Maryland lost to Middle Tennessee State
Cal won 66-3 at Washington State
The ACC isn't very good
The PAC10 is one of the best conferences in the country
None of that instilled much confidence in the Maryland faithful, but things changed very quickly once the game started. Maryland jumped out to a 21-3 halftime lead, and the game was never as close as its 35-27 final score.
The Terps looked like a totally different team than the one who lost at MTSU last week. They played with confidence and attacked the Bears from the opening whistle.
Chris Turner showed that, while inconsistent, he can turn in an incredible performance when he needs to. He won the QB battle today, especially with his play on 3rd down.
Speaking of third downs, the defense was amazing in stopping Cal on every 3rd down play until the second half. When the defense can get off the field like that, it makes the game a lot easier to win.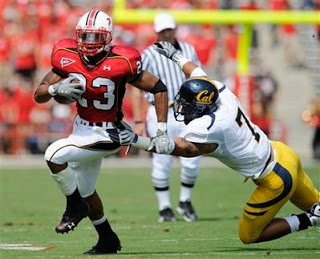 Da'Rel Scott looks like a star. He's a strong runner and I will never understand why he didn't get more carries last week. Hopfefully his shoulder is OK.
After not getting a sack last week against MTSU, the defense was able to get great pressure on Kevin Riley, including 5 sacks. Most of the pressure came with only a 4 man rush, which is a good sign for the rest of the season.
The ACC has been bad this year, and now Maryland has the ACC's worst out-of-conference loss (MTSU) and its best out-of-conference win (Cal).

A lot of the complaints about the coaching staff will obviously get a lot quieter following a huge win like this, but the Terps seem to go into a soft defense far to early in a lot of games. They let Cal get back into the game late because they didn't get any pressure and the defensive backs weren't able to break up enough passes. Chris Cosh needs to stick with what works instead of going conservative and letting a beaten opponent sniff a victory.
Obi Egekeze had a chance to really put the game away late with a short field goal that missed badly to the left. He's now 0-for-5 this season. Now, I know Nick Novak started out really bad before he became one of the great clutch kickers in Maryland history, but I think Egekeze is done. He has no confidence now and Fridge needs to start giving that freshman kicker some opportunities on extra points, at least.
The big question now for the Terps is which team will show up the rest of the season. Based on the past few seasons, we'll probably see a mixture of both. Maryland will lose some games they should win, but they'll also surprise some pretty good teams. Hopefully it will be enough to net a bowl game.
In the ACC this year, a victory like that is enough to make fans start thinking about a berth in the ACC Championship game. If the Terps play like they did today, that's not out of the question.
UPDATE:
Mr. Irrelevant
has a video of one of the best hits you'll see.