Former Houston Oilers/Tennessee Titans and Baltimore Ravens quarterback Steve McNair and a female companion were found shot to death at her condominium in Nashville, according to CNN. WBIR-10 in Knoxville originally reported a murder-suicide, but has since changed their post to say only that both are dead. The Nashville CityPaper is reporting that homicide detectives are unsure whether it is a murder-suicide or double homicide. Obviously, details are sketchy. The female's identity has not been released but it is not his wife, Mechelle Cartwright, who was in Mississippi.

Speculation is rampant, and I hate to add to it, but I have to point out that Don Aaron of the Nashville Metro Police Department conspicuously did not ask for witnesses or anyone with information to come forward. That would seem to point towards the police having a fairly good handle on what occurred.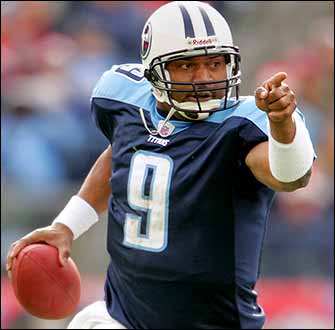 McNair enjoyed great popularity throughout his career, especially for his durability and hard-nosed scrambles. He shared the 2003 MVP award with Peyton Manning. McNair remains popular in Nashville and Baltimore, especially for his impact on the community.
McNair had two non-violent run-ins with the law prior to his death. McNair was arrested in 2003 for DUI, and an illegal loaded firearm was found in his car. He was charged again in 2007 for "DUI by consent", after a vehicle he owned and was travelling in was pulled over for drunk driving.

Still, McNair has never been associated with unsavory characters throughout his career. His death at 36 years of age comes as a great shock.
UPDATE 9:20p et: McNair was shot multiple times according to The Tennessean and Nashville Metro Police. Whether the situation boils down to murder-suicide or a double homicide, it certainly does not appear that McNair committed suicide.
UPDATE 11:41p et: According to the Tennessean...McNair was shot multiple times and his female companion, Sahel Kazemi (20) had a single gunshot wound to the head. A pistol was next to Kazemi's body. As noted above, the police are not seeking any suspects, and are tentatively treating it as a murder-suicide.
Though I got a lot of heat for it in the comments, McNair's history of DUI charges appears to be directly relevant. Kazemi was cited for DUI in a car co-registered to Kazemi and McNair just two days ago. Though not in the police report, McNair was riding in the car. In 2007, McNair was charged with DUI by consent for allowing his brother-in-law to drive his vehicle, with McNair as a passenger, while under the influence of alcohol. McNair was apparently not going to be charged for the latest incident, probably because Kazemi was also a legal owner of the vehicle.
No matter what took place that led to the incident, McNair's premature death is a horrible, and apparently senseless, tragedy.