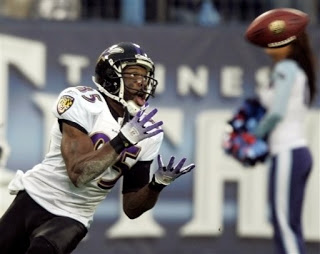 I'm not surprised the Ravens beat the Titans today. In fact, I bet the Ravens moneyline. I'm shocked at the way it happened, though.

The Ravens were beat on probably 90% of the plays in the game. The Titans seemed able to drive at will, and the Ravens offense didn't have an answer to the Tennessee defense -- 90% of the time. The Ravens had all of the huge plays in the game. The Baltimore offense consisted mainly of two gigantic Flacco passes (one to Mason, one to Clayton), and the defense looked anemic except for the three turnovers they generated and the huge 1st quarter stop on downs just outside field goal range. All three of Tennessee's turnovers came while they were within scoring range.

I don't mean to take anything away from the Ravens' win. They won the game in unconventional fashion, but they earned the win. Tennessee also did their part to give away the ball, coming up empty on several scoring opportunities (the turnovers and a missed field goal).

It would have been interesting to see what would have happened in the game had Chris Johnson played through the second half, because the Ravens didn't seem to have a way of stopping him.

As a Steelers fan, I've said throughout the playoffs that I want no part of the Ravens. Now that they've proven they have a horseshoe stuck up their collective asshole, I am even more nervous to play them (if the Steelers can get past San Diego).