Over the summer, there was some idle chatter about the possibility of Maryland moving to the Big East. Such a move couldn't take place until 2015, at the earliest.

As a lifelong Marylander and proud Terp, my initial reaction to this was shock and horror. Maryland is a charter member of the ACC, dating back to 1953. Prior to that, we had been a member of the Southern Conference, along with Wake, Duke, NC State, UNC, Clemson, Duke, and South Carolina (South Carolina came to the ACC in 1953 and left in 1971). My point is simply that for the better part of nine decades, Maryland has been in the same athletic conference as five of their current ACC brethren. Maryland's athletic history is indelibly interwoven with the Demon Deacons, the Tar Heels, the Wolfpack, the Tigers, and the Blue Devils.

The more I got to thinking about this, and the more I discussed this with friends who have attended Big East schools, the more it begins to make sense from a fan's perspective. Here's why, I submit to you ECB readers, a move to the Big East might not be so horrific.

Football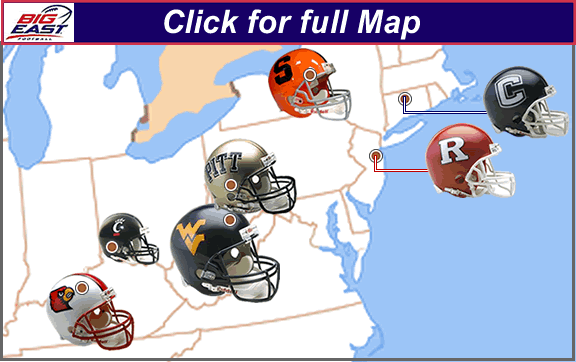 The Big East presently has eight teams for football, seven of them are set forth above (University of South Florida is the outlier down in Tampa). The Terps would be very much geographically in the middle of the conference with UConn, Rutgers, Syracuse, Pitt, WVU, Cincinnati, and Louisville. There would be four road schools within an easy drive to go to away games (Rutgers, Syracuse, Pitt, WVU), and there would be a road trip to a nice warm weather destination (Tampa).

More importantly, as stated, presently the Big East has 8 teams for football. The Terps would add a ninth team. One of the best things about the ACC pre-expansion was the 9-team league, which meant that every year you played all 8 other teams and rotated home-away each season with those 8 teams. Joining the Big East would bring this back for the Terps.

ACC football is mired in mediocrity (as is the Big East). There wouldn't really be anything lost by going to the Big East. In fact, the lack of a conference championship game in the Big East might make it easier for the Terps to make a long shot BCS appearance, just as the Terps were able to do in 2002, pre-ACC expansion.

Also, in football, the Terps have no true "rival." UVA is the closest thing that Maryland has. I could easily see the Terps forming a football rivalry with Syracuse, another school with a historically strong football program, who lacks a football "rival" in-conference. Think about it - trading ACC football for Big East football - not so horrible.

Basketball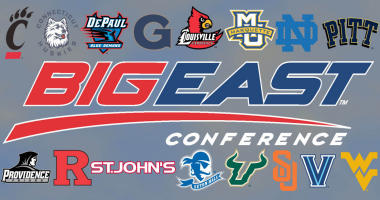 Now this is where we get very sensitive, as Terps fans. We care like nothing else for ACC basketball. We treasure our history in the 70s against NC State. We treasure our rivalry games of late against Duke and UNC. Our history as Terp basketball fans is measured by watching those ACC tournament games in Greensboro Coliseum.
But I ask you to take a second and look at those teams above. Yes, I know, West Virginia, Seton Hall, Rutgers, South Florida, and DePaul don't do too much for you as a college basketball fan. But neither likely do Virginia Tech, Clemson, Florida State, or Miami.
How about these teams - Syracuse, Villanova, St. Johns, UConn, Georgetown, Louisville, Marquette, and Pitt - does that spur your interest as a college basketball fan? As much as Duke, UNC, NC State, and Wake Forest? How about a conference tournament every year in Madison Square Garden in New York? Does that inspire you as much, if not more, than a rotating conference tournament that returns to Greensboro every other year and goes to Tampa, Atlanta, Charlotte, and the highly occasional stop in DC in the other years? I do have some concern that the Big East tournament doesn't invite every team. However, if you're so low in the conference that you're not getting invited to the tournament, you'd probably lose the first game of any conference tournament in the country, including the ACC Tourney.
For recruiting purposes, I think we wouldn't have any problem getting kids as inspired to come play for a Big East school as we do getting them inspired to play for an ACC school. For rivalry purposes, can you even begin to fathom the animosity that a Terps-Georgetown basketball rivalry would create? It would make the Terps-Duke relationship suitable for Mr. Rogers Neighborhood. We wouldn't lose any television exposure, in fact we'd likely gain television exposure.
The ACC has truly suffered in basketball post-expansion. The Big East has gained. My one concern is it's almost unwieldy size. So, you separate into Big East North and Big East South and you play half the teams home-and-home (twice a year) and the other half of the teams once a year, alternating home and road year-by-year. It could work.
Bet you didn't think about this one, did you? Let's talk about it. The ACC presently has a four-team lacrosse league, comprised of UNC, Duke, UVA, and the Terps. There is even a four-team conference tournament at the end of the season. A Big East lacrosse league could easily be formed with Notre Dame, Syracuse, Georgetown, Rutgers, and Maryland. I don't think any Terp lacrosse fans would mind getting to play Syracuse every season. In fact, I think we'd gladly give up our ACC schedule for any schedule that gave us Syracuse on the calendar every season.
So, there we have it - some of the case (a blog post that explains in full detail would be way longer than appropriate for this blog) why in my own mind, after much deliberation, I conclude that a move by the Terps from the ACC to the Big East might not necessarily be so horrific - it might actually be desirable. I know that many Terp fans will claim heresy at this one. That's part of our job as bloggers, I suppose.