In retrospect, the answer was obvious. Who would be dumb enough to sign a cancer like DeAngelo Hall in the middle of a season? Certainly not a contender without a pressing need at cornerback. Well, unless that team is the Redskins. Of course, they could not resist signing Hall for a pro-rated $1M contract.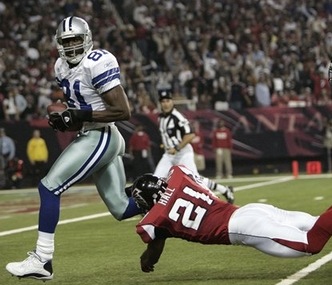 blablahblalahhblaah
We can expect to see some more of this.
blah
The Skins have capable cornerbacks, led especially by veteran Shawn Springs. Fred Smoot and Carlos Rodgers are serviceable NFL cornerbacks, and Leigh Torrance fills in well in nickel and backup situations. Why would any team, much less a team that has been criticized for poor drafting and short-sighted free agent moves, bring in a known cancer who they don't even have a spot for on the field? It's truly nonsensical, until you remember the players involved.
All Skins problems start at the top, with the Napoleonic Daniel Snyder. The bye week is a Skins fan's worst enemy. Snyder cannot have the Skins out of the spotlight. He likes to make a splash, and with the Cowboys coming up I have to think it's his way of saying to Jerry Jones, "See, we can integrate a cancer, too. Just like you did with T.O." The flaw in this logic is that the Cowboys haven't even won a playoff game with T.O., and those wheels are barely staying on at all times.
blahblaahblahblah
Shouldn't the leprechaun be wearing the vest?
Next down is Vinny Cerrato, the Director of Player Personnel or whatever his title is. We just know for sure it isn't GM, as the Skins have been without one for some time now. Vinny is widely perceived as Danny's lapdog, but realistically he's been putting his own stamp on the organization. The Skins kept all 10 of their draft picks, which is four more than they've even been averaging in recent years due to brilliant moves like trading a fourth round pick to Atlanta for T.J. Duckett, and then not playing him at all. That decision to retain all the rookies drew some fire, especially because the picks included TE Fred Davis who cannot even be on the field still. Cooley and Todd Yoder are the TEs who actually play. The Skins also wasted early picks on two WRs who never seem to have gotten out of Zorn's dog house and have shown absolutely nothing in the preseason or in limited regular season action.
The coaches, Jim Zorn and Greg Blache, probably had the least to do with this. I think Blache is comfortable with what he has on defense, and I don't think Zorn has any problems with what the defense has been doing to keep the Skins in games.
blahblahh
"Jim Zorn Meal: What You Get When You're Not Sure What to Have"
Even though
ESPN's John Clayton is reporting
that the team consulted with defensive leaders London Fletcher and Cornelius Griffin, I can't imagine they gave Hall a glowing endorsement. Surely the defense is tired of Carlos Rodgers dropping sure interceptions and touchdowns, but they probably also recognize that he's at least in position to make plays. Hall has been a coverage disaster this year and in past seasons in Atlanta.
All in all it's another head-scratcher. At least Jason Taylor doesn't screw up on the field or in the locker room. He just likes to dance dance dance. Hall could actually cost the Skins a game, and in the NFC East that game could be the difference between hosting a playoff game and traveling to Green Bay in January.