This post sponsored by Sportsbetting.com, our favorite online sportsbook.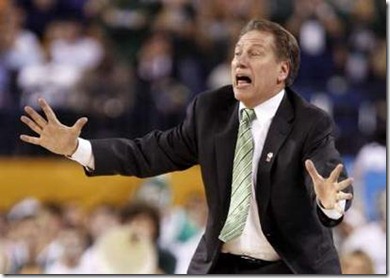 Tom Izzo and Michigan State were knocked out of the tournament on Saturday, but not before the Spartans logged their 6th Final Four appearance in the last 12 years.  That's an absolutely amazing accomplishment, and Izzo deserves all the praise he's gotten. 
The coverage of MSU's frequent success reminded me of the big story in the ACC Tournament this year, which was Duke's frequent success there.  The Blue Devils have won 9 of the last 12 ACC Tournament titles.
So which is the more impressive accomplishment?
Making the Final Four involves winning 4 games over two weekends.  For a team like MSU, the first game is close to a gimmie, and the last two games are against really great teams.  The games are all played on a neutral court.
Winning the ACC Tournament means winning 3 games in 3 days.  The first game will be against an ACC bottom-feeder, but the last two games are almost always against good NCAA Tournament-bound teams.  There is also a good chance of a rivalry game in either the semi-finals or the finals.  The games are played on a nominally neutral court, but often the tournament is played very close to Durham.
So what's more impressive?  A 50% Final Four success rate or a 75% ACC Tournament success rate?
I think it's the Final Four, but not by as much as you think.  Winning the ACC Tournament is very difficult, and Duke makes it look easy year after year.
I feel dirty for giving Duke any credit at all, so now I'll direct you to go read this.