I've written on this blog quite a few times in defense of Gary Williams. My philosophy has always been that you don't fire a coach unless you know you can replace him with someone who brings a better value to the table.

Maryland named James Franklin heir apparent during the past offseason. In a season where the Terps are exceptionally young, especially on defense, Friedgen is under immense pressure. A solid recruiter is on his staff and guaranteed his job.

Thus far this year, Maryland has lost to #12 Cal on the road 52-13, needed overtime to best I-AA James Madison University at home 38-35, and lost at home to Middle Tennessee State University, 32-31. That's 119 points allowed in three games, or 39.33 points per game. As a Ravens fan, I just threw up in my mouth a little bit.

Remember, two of those opponents are James Madison and Middle Tennessee.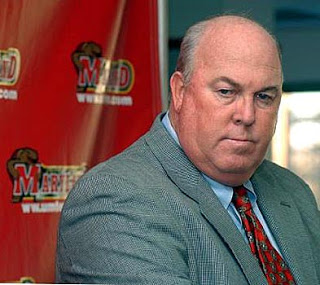 During Friedgen's tenure, Maryland has only lost to three teams that did not finish the season bowl-eligible: (2008) Middle Tennessee and Virginia, (2007) North Carolina.

Is this going to be a rough season? Almost certainly. Is it time to pull the plug on Friedgen? I don't think so.

I hate to say "wait till next year" when it's still summer, but Maryland has a young core of players that could develop into a very solid group in 2010-2012. In the current state of the ACC, you don't need a great team to make a BCS bowl. Just look at the Terps' schedule this year. In addition to the road game at currently #12 Cal, the Terps have only ranked Virginia Tech remaining. The other 10 opponents are currently unranked (pending FSU's status after destroying BYU). It is inarguably the worst conference in the BCS, and should remain that way for the foreseeable future.

Let's give the Fridge a little more time. He did deliver 30 wins over 3 seasons just a few years ago.