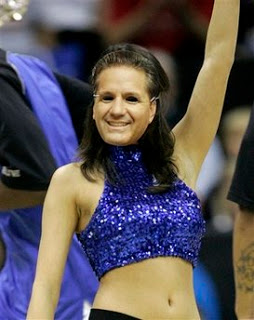 Still more attractive than a Duke cheerleader
I'm not quite ready to do a full post-mortem on the 2008-2009 Maryland Basketball season, but I'll just say that it was eventful and I'm happy with the results.  I have high hopes for next year and I think we've put a bit of the Gary drama behind us for a while.  Losing only Neal (hopefully) and adding Jordan Williams, James Padgett, and Lance Stephenson (hopefully) should provide Greivis with an even better supporting cast.
Today Memphis was simply a better team.  While we could have made it close on most days, with the Tigers shooting as well as they did, the Terps didn't have a chance.  Scoring 70 points is actually a fairly high output for Maryland, but Memphis made it look easy scoring against our press.  That was a tough draw, but you can't expect anything else as a 10 seed.
After some time to reflect, I'll have some more thoughts on the season and what we can expect next year.