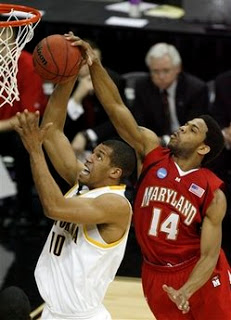 It's really a different experience watching the Terps when the pressure is off.  There've been so many times in the NCAA Tournament where the first round was all about avoiding embarrassment.  This year, it was found money.  
I was thrilled that the Terps were in the tourney, and while I certainly wanted them to win, it wouldn't have been that bad if they lost.  For whatever reason, that makes winning all the more sweet.  That sense of relief is replaced by genuine happiness.   
Being a sports fan can be strange at times.  There's so much emotion invested in the success or failure of a team, and so much of it depends on expectations.  When you aren't expecting your team to do much at all, any successes are even better.
Saturday is going to be even better.  I think the Terps have a decent chance against Memphis, but Terps fans have every reason to be thrilled with the results this season.
Random thoughts on the game:
I can't decide if California is Maryland's bitch (a football and a basketball win this season) or if Mike Montgomery is Gary's bitch (Gary beat Montgomery when he was at Stanford in the tournament as well).  Maybe it's both.
Another amazing team effort:  Neal had 15 points, Hayes got 14, and Bowie had 12 and 7 assists.
And I don't want to start another Gary Williams argument, but you have to give him all the credit in the world for having the team that ready to play.  They were mentally prepared and had a great game plan
We're going to miss Dave Neal next year, but I really hope Greivis comes back.  We could be really great next year.