I'm not usually one to blame a coach for a team's poor performance, and certainly the Yanks' performance in the World Cup wasn't a total disaster.  I wouldn't be upset if Bob Bradley was given another 4 years to improve the team (and find a striker).
However, in an unlikely place, I found the perfect candidate to take US Soccer to the next level.  Last night, I watched The Two Escobars (which was excellent) and couldn't help but think how awesome it would be if Francisco Maturana coached the US.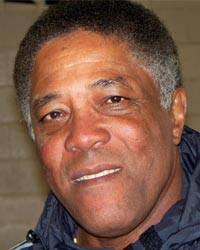 He was very enthusiastic, encouraged creativity and free-flowing play, and has a proven track record with Colombia (even though they bombed in the World Cup 94).
He's currently coaching Trinidad and Tobago, but we shouldn't have a problem stealing a manager away from them.  Let's start the campaign here: Francisco Maturana should be the next coach of the US Men's National Team!