By now the news has made it almost the entire way around the Internet that Dennis Hopper passed away at the age of 74. Hopper will probably always be best remembered for his roles in
Easy Rider
and
Blue Velvet
, but those iconic roles belie a career that spanned SIX decades and resulted in two Oscar nominations.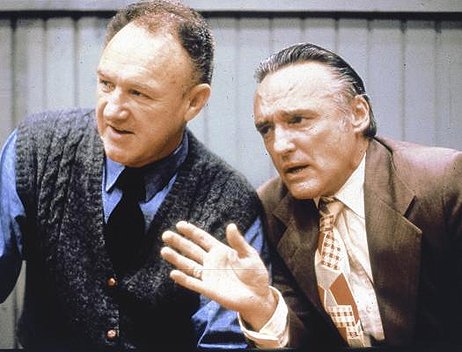 In fact, his only Oscar nomination for an acting role came not from those two movies, but as a result of his portrayal of Wilbur "Shooter" Blatch in Hoosiers. As if you don't remember, Shooter is the alcoholic father of one of Coach Normal Dale/Gene Hackman's players. In a typical Hollywood sports-mean-more-then-sports turn, Shooter is able to use basketball and his relationship with his son, Everett, to dry out and join the team as an Assistant Coach. In a critical moment, Shooter steps into Dale's shoes and the transformation is complete.
Without Hopper, Hoosiers is just Mighty Ducks. As a rare actor with whom three generations can identify, he will be missed.