So my Kentucky Derby picks weren't very good this year, but I'm hoping to make up for that with a successful Preakness.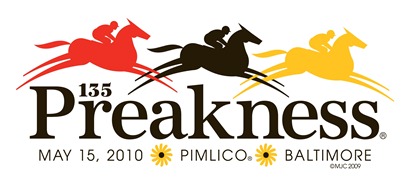 First off, I'm really disappointed Ice Box isn't running. I loved the way he tore through the field after a bad start at the Derby, and I thought he'd be a great pick here.
Now for the horses that are running on Saturday (check the Past Performances if you want to follow along):

Aikenite (20-1): Hasn't won since he broke his maiden last August.
Schoolyard Dreams (15-1): The extra 1/4 mile over his longest money finish is going to be too much.
Pleasant Prince (20-1): He's run 6 times already in 2010, including 3 times in the past 8 weeks. Primed for a burnout.
Northern Giant (30-1): Just broke his maiden in February, and hasn't done a ton since then.
Yawanna Twist (30-1): Not a ton of experience, but good showings with good Beyers in two G3 races this year. I like him.
Jackson Bend (12-1): Not a factor in the Derby. Seems to have plateaued.
Lookin At Lucky (3-1): Had a tough trip in the Derby, but showed he belonged there. File it as a maybe.
Super Saver (5-2): Another rail bid at the Derby by Calvin Borel. This horse looks too good to ignore, but I'm not wild about him as a Triple Crown threat.
Caracortado (10-1): A synthetic specialist who was 5-0 until he moved up in class and faced stiffer challenges.
Paddy O'Prado (9-2): Great run out of nowhere in the Derby. Maybe he likes the dirt better than turf or synthetic?
First Dude (20-1): The results just aren't good enough to justify putting him in this race.
Dublin (10-1): Lost ground in the Derby at the end, and that's never a good sign.
Unfortunately, I liked the three favorites, Lookin At Lucky, Super Saver, and Paddy O'Prado.
I'll wuss out and take an exacta box of those three, and I'll also put $5 on Yawanna Twist across the board.
So that's:
$2 Ex Box 7,8,10
$5 WPS 5
That's a $27 bet, and I can only hope that a chalk finish would win me my money back. Ugh.
Speaking of running, our friend Jason Reddish is running for Clerk of Court in Howard County. Check out his website at
http://www.reddish2010.com
.