This post is sponsored by Sportsbetting.com, the best sportsbook online.
The Orioles suck this year, just like everyone expected.  They actually beat the Red Sox yesterday in extra innings, but that followed a blown 4 run lead.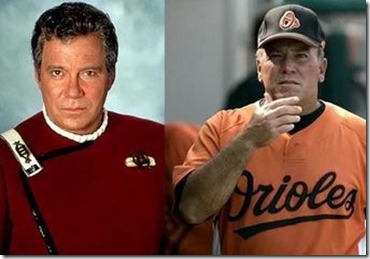 How can we lose with the Priceline Negotiator at the helm?  (pic via Bleacher Report).
Yesterday's victory brings this season's win total to a whopping 3.  Honestly, one win per week is bad even for the Orioles.  To add insult to injury, the Nats are still flirting with .500. 
No one is really surprised by these results, though, so it seems crazy to blame any of this on Dave Trembley.  I am always opposed to the "blame the coach" attitude when bad teams lose.  Managerial changes cause a lot of instability, and in the Orioles' case, it's not going to really help anything. 
I'd much rather see the O's stick with Trembley and continue nurturing the great core of young players (Roberts, Markakis, Jones, and Wieters).  Stop toying around with the team and just be patient.  That's the only hope we can still cling to.