This post is sponsored by Sportsbetting.com, our favorite online sportsbook.
I watched a lot of sports this weekend, but nothing jumped out as deserving its own post.  So you know what that means, more bullet points!
Capitals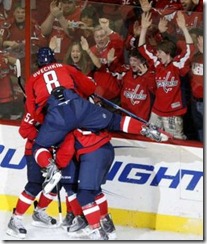 Washington was very close to a major sports meltdown on Saturday if the Caps had gone down 0-2 to the Canadiens.
Caps fans are normally a bit more well-adjusted than the rest of the DC sports scene, but expectations are so high this year that an 0-2 deficit would have been a disaster.
You could see the fans in the stands starting to rationalize away the season when they were down 4-1.  "I knew this would happen!  They always choke in the playoffs!"
The Caps still have to win another 11 games to make the Stanley Cup Finals and have the season not be a complete disappointment.
F1 in China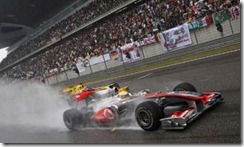 Even with a little bit of rain, the Chinese GP didn't live up to the last two races.
McLaren looked very strong, but some of that was due to a great call by Button to stay on dry tires early in the race.
Hamilton also looked very quick, maybe he's breaking out of his early-season funk.
I still think Vettel is the favorite to win the drivers' championship.
The new pit reporter on Speed, Will Buxton, isn't nearly as good as Peter Windsor.  Hopefully he'll improve with time, but he looked very uncomfortable on camera.
Maryland Lacrosse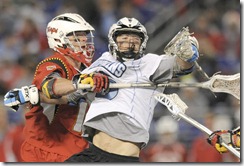 It took a season where the Blue Jays are under .500, but the Terps finally beat Johns Hopkins.
I was screaming at the television about Maryland's time-killing strategy at the end of the game.  Instead of getting some insurance goals, they tried to eat clock and ended up letting Hopkins back into the game.
Now the ACC Tournament and the NCAA Tournament will really test the Terps.  They haven't had great success against the best teams in the country, but now they have a chance to get some wins when it really counts.
Dave Pietramala looks like an asshole, doesn't he?  I'm sure he's a great coach and all, but I wouldn't want to play for him.