First of all, let me preface this by saying that I am writing this post with the assumption (a rather major assumption) that in about four hours, the Terps will appear on CBS in the NCAA Tournament brackets, after they showed up in a big way at the ACC Tournament in Atlanta.
spacer
I think it's safe to say that the "Gary Williams Issue" is one of the biggest quandaries for Terp fans. Because, at the end of the day, we all still love Gary Williams.
spacer
J-Red and I were talking this morning. I think the main reason that Terp fans love Gary so much is that he reflects the personality of the Maryland student and the Maryland alum.
spacer
Most anybody who went to Maryland is damn proud to be a Terp. The reason that many of us hate Duke and hate UVA and hate Georgetown is because we have a huge chip on our collective shoulder at the collective sanctimony displayed by so many of the alums and students at those schools. I know, I know, there are exceptions to the rule - one of my best high school friends went to UVA. But by and large, there is truth to this stereotype. We're stubbornly proud to be Terps. We're angry. We're competitive. Our fans will do whatever it takes to get under our opponents skin to create the most hostile environment possible and we're actually damn proud that Comcast has such a horrible reputation. We feel like we've been wrongly singled out by the national media (like Outside the Lines and ESPN) for engaging in the exact same conduct that student fans of most major colleges engage in. We feel FIRE about our athletic teams (and as the stereotype goes, often times literally so when it comes to celebrating our victories). We're confident that we went to a great school and got the best bang for our buck when it came to education, no matter what anybody else has to say about it.

spacer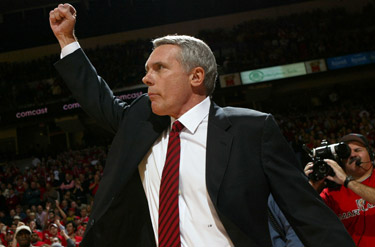 When Gary comes out of that tunnel and rocks his fist towards the student section, it's Gary against the world. It's Gary against his own athletic administration. It's Gary against the opponent. It's Gary against anybody who dares to doubt him. It's Gary against those programs that buy wins and buy talent and dare do anything to decrease his legacy. It's Gary against the media who wants to write multi-part series about his recruiting failures and who want to write stories trying to dig up recruiting violations that, even if they did happen, are commonplace at Georgetown and Duke and Syracuse and UConn and Kansas.
In sum, Gary Williams embodies the spirit that Maryland students have. Gary embodies the spirit that Maryland alums have. We can't wait to say "screw you" to the NCAA selection committee and beat whatever team is seeded higher than us. We can't wait to say "screw you" to Jim Calhoun and Bob Huggins and John Thompson III and Mike Kzykzadfxsdkski and any player, coach, or program that likes to pretend to be sparkly clean, but that everyone knows in reality is dirty as hell.
And herein lies the problem. Gary's stubbornness to change is what Terp fans love about him. And what Terp fans hate about him. We know that we should never, ever, ever be in a situation where we're starting a 6'7" guy at center who would either be starting at the 3 or 4, or would be coming off the bench at most other schools. We know that we shouldn't be in a situation where we are so far behind when it comes to talent. Yet at the same time, we want to shake Gary's hand, buy him a beer (or 20), and thank him for his incredible job this season, because we'd take Gary over literally any other NCAA coach in the nation in light of how Gary has made the most with the least. I would bet that no other coach in the nation could have had the success that Gary has had with the talent that he's had at his disposal this year, in such a difficult conference. Very few other coaches in the nation could've had his players literally fighting and scrambling and scrounging for those two wins necessary in the ACC Tournament to sneak into the NCAAs.
Gary's coaching performance in Friday night's game against Wake made Terp fans everywhere awfully damn proud. We love Gary for who he is. And we love him for who he is not. But at the same time, sometimes we hate Gary for who he is. Because he's a lot like many of us in ways we're not necessarily happy about.