"We have been to Northern Illinois. We have been to Eastern Michigan; had to pull that one out. Last year, we scored 14 points at FIU and went to sleep the rest of the game. Personally, I would rather play somebody pretty good, myself."
- Ralph Friedgen, University of Maryland
Nicely said Ralph. I think Cal probably feels the same way right about now. I mean, how stupid can you be? You say after the game that you're warning the team all week long leading up to the game about how this is on the road and a trap game. Yet you let this slip out of your mouth before the game? Yeah, somehow I'm guessing this found it's way up on the MTSU locker room bulletin board. Hypocrite? Check.
It's OK Ralph. You've just been inaugurated into the ECB Foot-in-Mouth Football Hall of Fame. Your selection for entry into the foot-in-mouth HOF is a true honor, bestowed upon those in sports who make a guarantee or statement that comes back to bite that speaker horribly in the ass, in the form of an embarrassing loss that makes it impossible that the speaker will ever be able to live down those words. Your colleagues from the world of football include: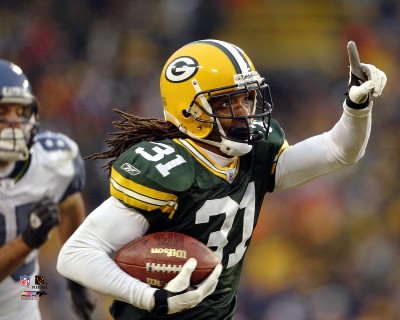 "We want the ball, and we're gonna score."
- Matt Hasselbeck, Seattle Seahawks
Delivered after the Seahawks won the coin toss in their divisional playoff game at Green Bay and the ref asked Matt, as captain of the Seahawks, whether they'd kick or receive in overtime. Well, at least Matt made the right decision to receive. Unfortunately, he didn't make the same decisions on the field and wasn't able to come through on the second part of his statement. That is, unless he was actually a Green Bay Packer. You see the above result of Hasselbeck's guarantee - he promptly threw a pick-6 to Al Harris of the Packers and the Seahawks season was over.
- Anthony Smith, Pittsburgh Steelers
Well Anthony... the Patriots did finish the season 16-0, not 15-1. And I seem to remember that the Patriots gained 399 passing yards and four touchdowns that game (well, not exactly offhand, with a little help from Google). Smith was a second-year safety for the Steelers when he made this statement about the Patriots juggernaut. Clearly from the picture above, during his rookie season, he did similar things to piss off the Steelers coaching staff. Only Bill Cowher reacted a little more emotionally than Mike Tomlin.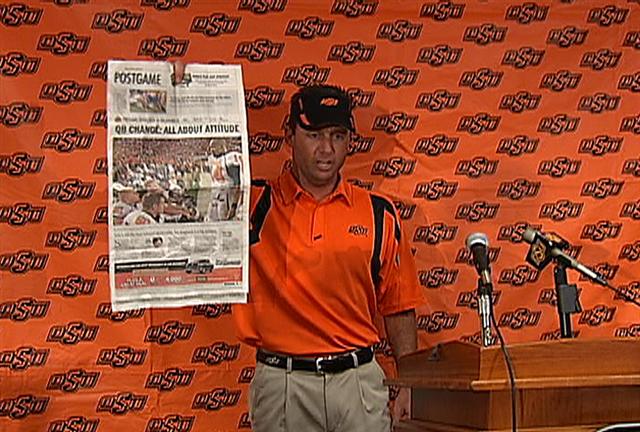 spacer

"This was brought to me by a mother... of children."""Come after me! I'm a man! I'm 40!" -
Mike Gundy, Oklahoma State University
spacer
This doesn't quite fit the classic mold of an inductee to the ECB Foot-in-Mouth Hall of Fame. In fact, the quote was given after a win. But Mike Gundy (who many Terp fans may forget was a coach on the Terrapin staff under Ron Vanderlinden from 1997-2000), will never, ever, ever be able to live this down. In fact, just trust me... go to YouTube, find the video, and you'll get off to a chuckle on this Monday morning.
spacer
J-Red, Brien, Russell... did I miss anybody?