From our West Coast correspondent, Michael Prodanovich...


As one of the few real NBA fans left, and as one who has seen almost every good Western Conference game, I feel a duty to give a preview, especially since this years West playoffs will be some of the best basketball ever played. All 8 teams in the West playoffs won at least 50 games, and the 48-34 Warriors were left out in the cold. I'll give an overview of the East as well, but my expertise is mainly with the West. Despite when the TV coverage says the games will start, most of these Western games will actually tip-off around 10:50pm EDT, but for those insomniacs and fans of great basketball, this truly is must-see, and worth staying up to watch.

West 1-8: Lakers vs Nuggets
Analysis: This will be one of the fastest paced and highest scoring series you are likely to see, as these are two of the four highest scoring teams in the league. The Nuggets have star power, but the Lakers have THE star, and won all three games during the regular season by an average of 16 points, and all three of those were before Pau Gasol came into the fold and turned the Lakers into contenders. Count one up for the fast-paced Nuggets in the altitude, but this will be an easy series for L.A.
Prediction: Lakers 4-1



West 2-7: Hornets vs Mavericks
Analysis: Two opposite teams in roster compilation, but the same in style. The Hornets are young and athletic and the Mavericks are a group of aging veterans, despite both teams preferring a slow, half-court style. The Mavs actually regressed after getting J-Kidd (partially due to their aforementioned style of play), but his veteran leadership will keep them in this series. I think Chris Paul is just too good, and with Game 7 in NOLA, the (surprisingly good) crowd will carry them to victory.
Prediction: Hornets 4-3

West 3-6: Spurs vs Suns
Analysis: Although this is the 3-6 series, there is only one game difference between the teams (54 wins vs 55), in a matchup you would normally expect in late May, rather than late April. The Suns got Shaq solely to deal with Duncan, and his rejuvenated health combined with Amare Stoudemire being an absolute beast (30-10 down the stretch), gives them a good chance to finally beat their aging nemesis. The Spurs will be headed for their first opening-round exit in many years.
Prediction: Suns 4-2

West 4-5: Jazz vs Rockets
Analysis: The 5-seed Rockets actually have the home court in this series, thanks to the divisional seeding rule, but it won't help them much. The Jazz are on fire since acquiring Kyle Korver and are nearly unbeatable at home. McGrady's bunch have cooled down significantly and have looked downright mediocre since winning 22 straight. This is their worst possible first round matchup, as the Jazz have the advantage at 4 of the 5 positions, head coach, and style of play. It Utah takes one game in Houston, this series is over.
Prediction: Jazz 4-2


Second Round: Lakers over Jazz 4-1, Suns over Hornets 4-3

Conference Finals: Lakers over Suns 4-3. If this series happens, it will be worth staying up to watch. Not just with the high quality of play, but with the Kobe vs Shaq for a trip to the finals drama.

In the East, I would be shocked if the first round didn't go to form. Starting in the second round this will get interesting. Second round predictions in the East: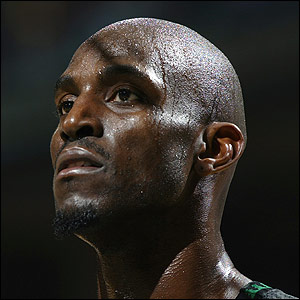 Eastern Semis

Boston 4, Cleveland 2: The Cavs took a step back from last year, I just don't think LeBron can beat Boston four times by himself.

Detroit 4, Orlando 3: The Magic are one year away from contending, and the Pistons are one year away from falling out of contention…but Detroit takes this one in their last chance to take another title before needing to look to rebuild.

Eastern Finals - Boston 4, Detroit 1. This will not be nearly as tough a series as people may think it will be. The Celtics seem to be the team of destiny, and Detroit probably has their fourth best team of the last five years. I don't even know if it will be this close.
Finals
: Lakers vs Celtics. A flashback to the days of old. I think the Lakers have a better chance at getting upset along the road than Boston does, due to the superior competition in earlier rounds, but I expect to see this matchup. I can't pick it though due to my blatant homerism. I went to my first Lakers game when I was seven years old in 1986, and I detest the Celtics (and Pistons) with the same fervor of Maryland fan against Duke and a Sox fan against the Yanks. So you know how I would pick…