This is an unusual week for American Idol, with the second annual Idol Gives Back event falling on Wednesday, which is usually elimination night. Idol chose to link the performances to Idol Gives Back with "Inspiration" as the theme for Tuesday's performances. This is rather amorphous, as reflected by eight performances ranging from classic Aerosmith to Carole King.

(In alphabetical order, since I don't remember the exact order of performances...)

1) David Archuleta - Angels - Robbie Williams

I was afraid Mr. Archuleta, a Mormon, would choose something by Jars of Clay or early Creed or DC Talk, but he chose to go a little more mainstream. Archuleta remains boring in that he never falls flat on his face and always delivers quality performances. On consistency alone, he's the clear favorite. On talent alone, he's probably the clear favorite. The only risk he faces is complacency, not from himself but from the voting audience. The worst thing that can happen to an excellent contestant is that people assume he's safe and forget to actually vote for him. With eight contestants left, this is the most dangerous time for him. He almost might be best served by tanking one just to rally people to continue voting.

2) Jason Castro - Over the Rainbow - Judy Garland/Israel Kamakawiwo'ole

We all know this song, and many of us have heard the ukelele version made popular by Israel Kamakawiwo'ole. Castro chose the latter, which appears to continue to be a good strategy in Idol. David Cook and Chris Daughtry have shown that the judges will think you are original and fresh if you play someone's modern remix of an extremely well known song. For that reason, and because Israel Kamakawiwo'ole is not a household name, I assume Jason will be safe again. He is still mastering the Justin Guarini approach to Idol success: look pretty, have nice hair, don't do anything dangerous. The performance itself was so-so, but the song is pretty easy to sing. How does it inspire Jason? Does anyone know or care?

3) David Cook - Innocent - Our Lady Peace

Time to put my rant hat on. I may be the biggest Our Lady Peace fan in the United States, having turned on to Starseed and Naveed back in 1995 when said songs were in the rotation at X107 - WRXS Bishopville. At the time I thought the station was just modern rock, since on the Eastern Shore of Maryland music genres fall into Country, Classic Country, Christian, Hip-Hop, Classic Rock and 80's Rock. It turns out it was one of the few non-college indie stations in existence. Needless to say, I can't name a Motley Crue, Poison, Def Leppard or Queensryche song but I'm well-versed in Tori Amos, PJ Harvey, Liz Phair, Morrissey, Matthew Sweet, etc. Back to the performance: it's sucked horribly. The lead singer of Our Lady Peace, Raine Maida, has a very distinctive voice and a very strong, frequently used, falsetto. David Cook does not have a strong falsetto or upper range. To accomodate this he had to drop the song by an octave. The song doesn't work down a octave. The melody was buried in the background singers and the abrupt shift from regular to falsetto disappears when David Cook is going from an octave low to his normal range. He totally butchered it and Thursday will be a measure of the goodwill he's built with his emo hair and excellent song choices prior to Tuesday.

Also, he wore some kind of Sgt. Pepper's white double breasted waistcoast which looked about as appropriate on him as a tie-dye shirt would look on Dick Cheney.

4) Kristy Lee Cook - Anyway - Martina McBride

She's cornered the country market, and I can no longer anticipate her departure in the near future. Good planning on her part. My anger is subsiding. If she is going to cling to Idol life, at least she's doing it through good strategy. Plus I noticed she might have a really nice ass. Apparently she also sang a song. I don't know because a small tumor formed in my auditory cortex making my brain unable to process any country music written after 1995.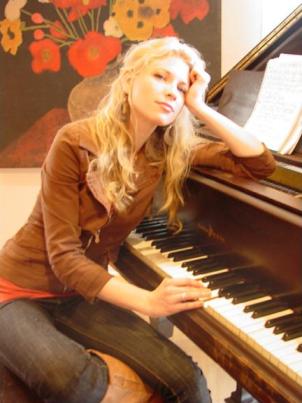 bahlahblah Brooke White cruises on while some others enter choppy waters
5) Michael Johns - Dream On - Aerosmith
For the second time (actually he went first) Tuesday we have a man making the mistake usually made by the ladies. Michael really wanted to sing Dream On badly and he attempted it despite the fact he is clearly not a 20-something Stephen Tyler. Much like the ladies who feel the need to always attempt to match Whitney, Mariah and Celine, Michael well WAAAAAAY short of his goal. It was the equivalent of our Jeremy trying to remake
Deep Throat
. He might be a great actor and performer, and he may even have the tools to get the job done, but no matter what it's just not going to have that
je ne sais qua
needed to duplicate the original. Michael might be in a bit of trouble, or, as they say in Australia, his wobblerwicky might be caught in the knushklopper.
6) Syesha Mercado - I Believe - Fantasia Barrino
[Review unavailable - otherwise occupied]
7) Carly Smithson - The Show Must Go On - Queen
How is this inspirational? She hasn't faced any especially taxing adversity to our knowledge. Her make-up looked better this week. Otherwise I was bored and really can't remember this song at all.
8) Brooke White - You've Got a Friend - Carole King/James Taylor
This was a great song choice. On a night with so few recognizable songs Brooke closed the show with a song everyone knows. I prefer the James Taylor version, but frankly the Carole King/Carly Simon genre is right up Brooke's alley. She sang the song well, looked pretty, and did everything she needed to do to get by. How is it inspirational? I guess it refers to the strong abstinence-based courtship she had with her husband or the support she feels from Jesus or the Mormon church. Either way, she's done well to keep her religion out of her performances and I presume she'll move on easily this week.
DANGER WILL ROBINSON
For the bottom three I'm going to predict Michael Johns, Syesha Mercado and Carly. The only thing worse than singing a song no one knows is singing a song everyone knows poorly. That should cost Michael dearly. Syesha has the R&B market cornered but she continually refuses to take advantage of it. Why sing a Fantasia song, which only the youngest R&B fans will know, when you have the whole world of Motown, post-Motown, Toni Braxton, Babyface, etc. etc. to draw upon? Carly just isn't impressive enough. In just about every important category for an Idol contestant she seems to be just a bit short.
My official prediction is that Syesha goes home tonight.