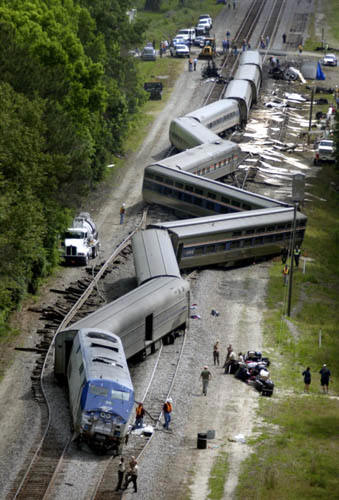 I thought that a very large picture such as this would be apropos for this evening's Idol performance, which was, start-to-finish, about the worst I've seen in the two seasons I've watched the show. Basically, we saw 9 out of 11 contestants essentially either crap the bed, or do absolutely nothing original. And on top of it all, it was Beatles night. Which proves either that the Beatles were so good that some of America's most talented "amateur" singers can't touch them, or it proves that these "amateur" singers just couldn't figure out how to wrap their arms around a Beatles song in the way that would encapsulate the contradictory criticism being thrown at them by the judges.

The Good:
David Archuleta - I guess it's easier to sing when the restraining order kicks in not allowing his father to come within 100 feet of the stage. The wife further substantiated the rumor that I had heard about David's dad being the ultimate stage parent, having a meltdown at David during rehearsal last week, and likely contributing to his clusterfuck last Tuesday night. David recovered tonight. I still wonder if his dad also had David castrated so he'd hang on to those cherubic looks and high pitched voice forever.

Syesha Mercado - Gotta hand it to her for a hell of a performance of Yesterday. She did just enough to tweak it to her own style while remaining true to the original song. This is the ultimate Idol trick to success, and she pulled it off beautifully. I really think it could be the kind of cover that you hear in a movie soundtrack.

The Same Old, Same Old:
David Cook - Simon was spot on... the performance wasn't as good as David thought it was. He's just showing up every week and rocking out. David needs to decide if he wants to win this competition or if he wants to become like Daughtry and do his own thing exclusively in rock. From hearing David's soundbites, I think he truly wants to win this competition. Therefore, he's going to have to mix it up some.

Amanda Overmyer - New week, same four notes, different artist and cover. She, unlike David, couldn't give a shit if she wins this competition. She knows who she is and she'll sing every song like it's Janis Joplin or southern-induced rock. Hell, they could have a Starland Vocal Band night and we'd hear Afternoon Delight screamed at us with blinding lights and bad hair dye.

Disappointing:
Jason Castro - Remember that dude who smoked up in the woods behind the school and stumbled into your foreign language class about 20 minutes late in 11th grade? I thought so.

Carly Smithson - Fumbled a little bit tonight. But hey, it's Carly. Come on. She'll still be there the last two or three weeks of the show. The costume designers this week really didn't flatter Carly either with a red mumu. Apparently the social activist in J-Red is all in a tizzy because Carly tried to spin a song that was really about Paul McCartney's horror at 1960s racial relations in America into an inspirational song for Idol contestants who had $2 million invested in them and couldn't break through because they couldn't get a visa from immigration. We may hear more from J-Red on this one.

Brooke White - We found out this week that Brooke's upper arms are roughly the width of a double A battery thanks to that yellow sundress that she was wearing presumably because she was singing... wait for it... Here Comes the Sun. I know, I know, symbolism is totally lost on the average Idol viewer so they hit us over the head with it. Brooke looked totally lost on stage.

Eze - This was tonight's clusterfuck of a performance. I wonder if Eze was even in the building last week for Kristy Lee Cook's failed hoedown. We saw Eze try to replicate it tonight. At least he has more charm. He'll survive.

Predicted Bottom 2 who don't get voted off (surprisingly difficult):
Ramiele Mulabay - The cute factor just isn't cutting it anymore. She looked like a long-lost member of Hanson tonight in that little hat and with that sing-songy performance. She'll survive though.

Michael Johns - I just think he's almost out of time and is in an upside down nosedive towards the ground that's going to be hard to pull out of. When they showed him perform Queen tonight from Hollywood Week, that was the performance that we look back upon and say "where did you go????" He picked a great Beatles song that unfortunately just cannot be done in 1 minute, 45 seconds. I have no idea how he's doing in voting, but I can't imagine he's got a huge contingency.

Time to try to buy a new horse:
Kristy Lee Cook - In a way I feel bad for her because she knows she's way outclassed in terms of talent and has somehow skirted by these past few weeks on the strength of her looks, on the strength of her country music fanbase, and on things out of her control (somebody with more talent happens to be outed as a gay stripper and has a bad night of performance). She can't really hold a tune, she hit one good note in her song, and she's done.