Check out these teams who have the benefit of geography in the Men's NCAA Tournament:

1) Texas (2) - The Longhorns finished the season strong despite a loss to Kansas in the Big XII tournament. They were rewarded by a road that includes trips to Little Rock, AR, Houston, TX and San Antonio, TX. Assuming fellow Texas school Austin Peay doesn't knock them off in the first round, no other team in the region has such home cooking. Memphis is the next closest.

blahblablshblahblah
The "Hook 'Er Horns" never got approved

2) The Number Ones - Did they pick the venues based on who they thought the number one seeds would be? Seriously, UCLA is playing in Anaheim, UNC is playing in Raleigh, Memphis is playing in Little Rock and Kansas is playing in Omaha? Washington, DC was another first round venue, but Georgetown is ineligible to play there as it is their home court.
3) Kansas State (11) - KSU and Beasley match up with USC and Mayo in this 6-11 matchup. Luckily for K-State, it's being played in relatively nearby Omaha. I don't know how many USC alums want to travel to Nebraska, or how many can justify the trip while knowing that they are going to need to keep that football fund healthy.
4) Davidson (10) - Davidson, a North Carolina school, gets to take on Gonzaga in Raleigh. Gonzaga's record as a single-digit seed is unimpressive, and many people fail to realize that Davidson has an RPI of 35, only 5 below Gonzaga's. Add in home field advantage, and I'm not sure Davidson isn't the favorite. That won't get them past Georgetown, but it's nice to have a one game head start.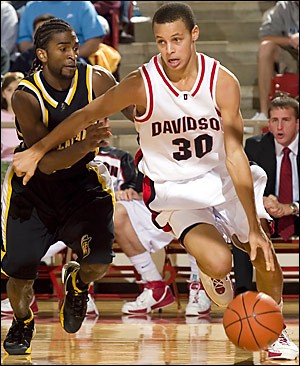 5) Stanford (3) - I know Anaheim is a pretty good haul from Palo Alto, but nothing like the trip from Cornell, Marquette or Kentucky. It should be a Pac-10 crowd who might send off the Lopez brothers the right way. They're as close to a lock for the Sweet 16 as any team in the bracket.