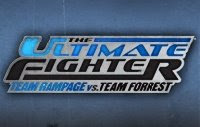 Last night the newest season of "The Ultimate Fighter" premiered. It was preceded by an awesome Ultimate Fight Night that featured a knockout 8 seconds into the first round, some great submissions, and a boring "chess match" that involved 15 minutes of tentative punching and a few takedowns.

If you're keeping track at home, that's 4 hours of the UFC on Spike last night (or about 2.5 hours if you fast-forwarded through all the commercials and interviews in between the fights). With a longer than usual gap between seasons of TUF, this was a welcome return. And since I waste so much of my time watching the show, I figured that I should get some blog material out of it in the process.

The Ultimate Fighter is a strange show. It has moments when it's absolutely gripping television. Every episode promises the possibility of an amazing fight and/or crazy drama at the house. I keep waiting to see someone get seriously injured in one of the drunken fights on asphalt at the house. It's got to happen one of these seasons. Unfortunately, the show also has long stretches when it is painfully boring. Each episode is an hour long, and has a fight at the end. Sometimes the fight only accounts for the last 10 minutes, so you have 50 minutes of training montages and shots of 16 drunk fighters cooped up in a house for weeks at a time.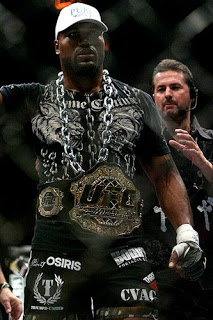 After watching the first episode of this season, I have to say it looks like it has the chance to be the best one yet. First, Dana White managed to get two perfect coaches. Rampage Jackson and Forrest Griffin are two of the most popular fighters in the UFC. They're both funny and likable. I think this may be the first time since Season 1 (Liddell - Couture) that I actually like both coaches.

The big twist in episode 1 was that there were 32 fighters invited out to Vegas for only 16 slots on the show. There will be 16 "play-in" fights where the winner makes the show and the loser goes home. Last night featured the weigh-in and the first 8 fights.

I was completely shocked that all 32 fighters made weight within 24 hours of arriving to Las Vegas. Every year there seems to be one guy that has to cut weight like crazy for 3-4 days to get down to fighting weight. Sometimes even after a few weeks in the house one guy can't make weight. This season one of the fighters successfully cut 17 pounds in 24 hours. Predictably, he was totally gassed during his fight and lost to a less-skilled opponent.

Some of the play-in fights were boring, and thankfully we only saw highlights from those. The fights that we did see were very entertaining. There were a few quick knockouts and a great back-and-forth battle where the outcome was in doubt until the end.

I still don't know anyone's name (except for Cale Yarbrough, whose is either related to the NASCAR great or has crazy parents), but I really enjoyed the first episode. It's amazing to see how far the fighters progress from the time they walk into the gym until the finale. After watching Ultimate Fight Night, it was obvious that the difference in skill between even the worst of the pros in the UFC is night and day compared with even the best competitors at the beginning of The Ultimate Fighter.

Verdict: love the new format, love the coaches, looking forward to the rest of the season