Popcrunch has ranked the 50 hottest student bodies in the country (found via Cecilio Guante), and the there aren't really any surprises in the top 10. All the usual suspects are here:

Arizona State
USC
FSU
Florida
Ole Miss
South Carolina
UCLA
Auburn
Georgia
LSU
The big shocks start a little further down when you don't see UNC until number 28. That's absolutely crazy. Carolina girls are way hotter than Wisconsin chicks. The horrible rankings only get worse when you get to Duke at #30.
WHAT?
Duke girls are universally mocked for being ugly, annoying nerds. I'm sure that's just a horrible stereotype, but seriously? Number 30? The pictures they had of Duke students aren't even very good. They couldn't find even a few pictures of hot Dookies, but somehow they're ranked 30th?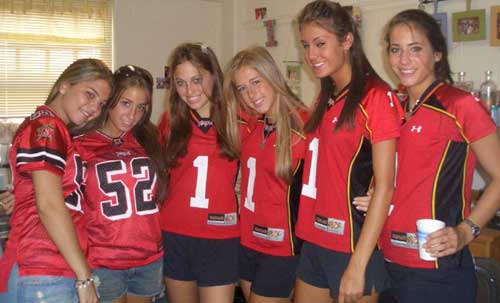 Maryland women checked in at #47, which I think is a bit low, but probably pretty fair. I'm sure the Terps would have ranked higher if Popcrunch had met my beautiful wife, but Maryland isn't going to jump past the southern and west coast schools that fill out the top slots. I would rank Maryland ahead of some of the Midwestern schools from the middle ranks (Indiana, Michigan, Ohio State, Wisconsin).
While we're discussing the regional rankings, I noticed that there are zero schools northeast of Penn State. It's certainly true that New England schools are not known for their hotties, but I think Boston College could have cracked the list.