This post is sponsored by Sportsbetting.com, the best place for online sports betting.

With only the national championship game remaining, it's a good time to look back at the results of the bowl games to see if we learned anything. Here's my take:

Conference strength: Winner: Big 10. Plenty of people (myself included) have sneered at the slow, boring Big 10 for being consistently overrated and losing the big bowl games against other conferences. That changed completely this year with convincing victories by Ohio St, Iowa, and Penn St, all in games against favored teams of equal ranking. As a result all three will finish the year in the top 10, and the Big 10 will have a lot of momentum and respect entering the 2010 season.



Loser: Pac 10.
How embarrassing is it for me to have said that this might have been the best conference in football this year? Two blowouts against Mtn West teams and an annihilation of Arizona set the tone for a dismal bowl season. The Pac 10's only bowl victories were against BC and Temple. Everyone thought that part of USC's demise was that the rest of the conference was better. Apparently not as almost all of the losers were completely dominated at the line of scrimmage. Only Stanford gets a pass from me because they played a close game vs Oklahoma without their starting QB. Oregon, Oregon St, Arizona, and Cal were all exposed. You will see even more of an east coast bias from me next year after this.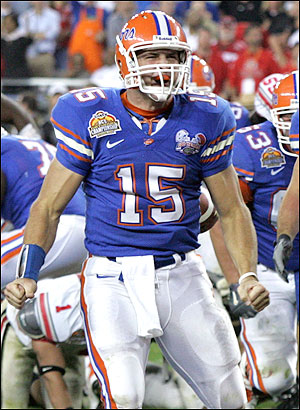 Individual:
Winner: Tim Tebow.
Florida's torching of the Bearcat defense will serve as his NFL tryout video, and it couldn't have looked better. This was an appropriate ending for one of the best college football players ever.
Loser: C.J. Spiller.
He had a very respectable bowl game in Nashville, but it did not make up for his absence in the discussion of the best players this year throughout award season. Maybe it was just the ACC defenses making him look good, but his December was disappointing for sure. Didn't help that the ACC bowl selections sent Clemson to Nashville once they missed out on the Orange Bowl.
Team:
Winner: Ohio St.
After so many losses in big games, it must feel great to win a Rose Bowl and have confidence in your young QB going into next season.
Loser: Cincinnati.
You are one fraction of a second in the Big 12 Championship game from playing for the national title, and then everything goes wrong. You lose your coach, the Sugar Bowl is an embarrassment, your undefeated season is gone, and your best players are going pro. The Bearcats program may return in short order to what they were before Brian Kelly: nothing.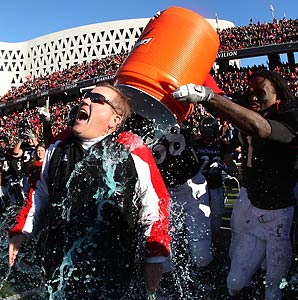 Coaches should be contractually obligated to finish the season with their teams before moving up the ladder to a better school.
BCS system:
Winner: The Big 3 Conferences.
If you wanted a highlight reel for the SEC, Big 10, and Big 12 being the best conferences, I don't know what else you could ask for. TCU and Boise failed to impress anyone in the Fiesta Bowl, and the champions of the Pac 10, ACC, and Big East all lost rather decisively. Why expand the system when no one else is worthy of being in the championship game?
Loser: Everyone else.
The Bearcats' bad loss at the hands of the Gators, coupled with the other BCS games so far, has pushed all of the lesser conferences further out of the discussion. And I'm not just saying the WAC and Mtn West are further from making the championship game, but so are the ACC, Big East, and Pac 10. It will be very hard for a voter to bump up a Cincinnati, GT or TCU next year over a Texas or even a Florida. The Big East looks weak after Pitt struggled to beat UNC and WVU lost to FSU. The ACC wasn't terrible, but they certainly didn't impress anyone. And we've already discussed the Pac 10. Really the only smaller conference that can take anything out of this is the Mountain West, as it becomes increasingly clear that they are just as good or better than the ACC, Big East, and Pac 10. Every year that they have the best bowl record as a conference bolsters their claim for automatic qualification to the BCS. If only TCU had come to play on Monday...
Style of Play
Winner: Power.
Loser: Speed/deception.
Every team with a wide open spread/option offense that played in a big game was soundly beaten by their more physical opponent. In the TCU/Boise game, neither offense got on track. It's no mistake this year that two of the best defenses will be playing for the national title.