We're down to the playoffs for our annoying fan competition.  If you're new, check out our regular season battles for each division.
NFC
Arizona v. Washington
Not even close.  See KSK's Redskins fan takedown for even more reasons to be annoyed by them.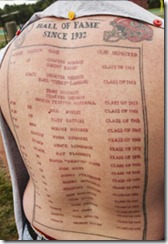 This guy has a tattoo of all the Redskins in the Hall of Fame.  How f-ing stupid and annoying is that?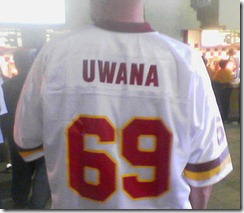 Via Mister Irrelevant, this one speaks for itself.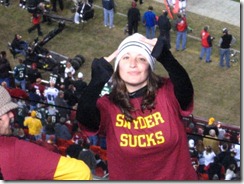 Also from Mister Irrelevant, even the lady fans are demure and classy.
Carolina v. Philadelphia
I don't even remember why the Panthers are in the playoffs.  The Eagles skate through on this one.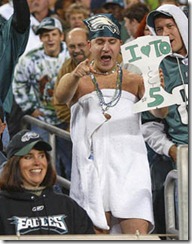 Is that supposed to be a toga?  If so, why?  If not, don't men normally wear towels around their waist?  And not at football games?  Is this a reaction to the Nicolette Sheridan commercial?  Annoying.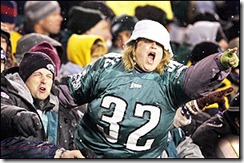 At least it wasn't her in the towel.  I'm sure she's yelling encouragement to her own team and not a profanity-laced screed directed towards the opponents.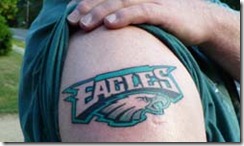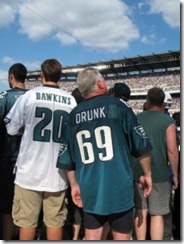 More bad ink and 69 jerseys, the hallmarks of annoying fans.
AFC
Baltimore v. NY Jets
This one is actually a little tougher.  It was a bit of an upset that the Raiders got the bye over the Ravens, but Jets fans are an annoying bunch themselves.
Purple camo is annoying, but so is Fireman Ed
My proximity to Baltimore and familiarity with Ravens fans may be skewing my opinion, but Ravens fans squeak this one out.
Pictures of these guys are what show up when you search for Ravens fans (all from different sites).  Even if they're a small minority, the beads, feathers, facepaint, dyed purple facial hair, beanie babies, and pointing at the camera are enough to ruin it for the rest of you.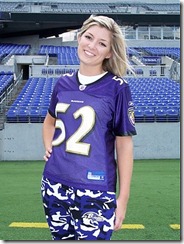 More sad than annoying, this picture from the Ravens official store cracks me up.  For the ladies: Look classy and beautiful in your authentic purple camouflage pants! For the fellas: This hot chick wears purple camo pants, that means she's probably turned on by guys wearing them!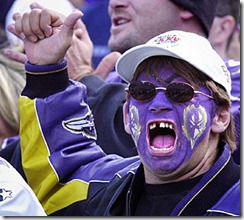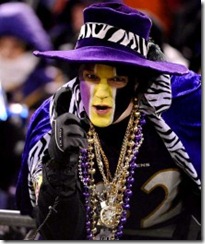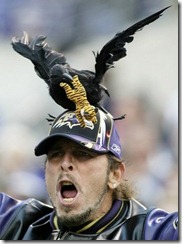 There are just too many, I have to stop myself or this post is going to be 20 pages of silly looking Ravens fans.
Jacksonville v. Pittsburgh
Another easy one.  It was a huge upset when the Steelers lost their division to the Ravens, but they're poised to make a run through the playoffs.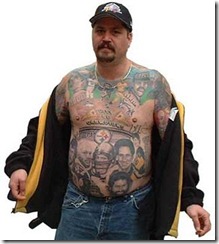 Did someone say disgusting tattoos?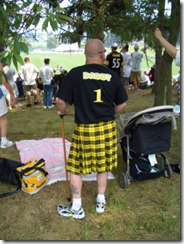 A Steelers kilt?  Really?  Guys who wear kilts are super annoying to begin with (HEY! LOOK AT ME! I'D LOVE TO HAVE A LONG DISCUSSION WITH YOU ABOUT HOW THIS IS A KILT NOT A SKIRT!  GIVE ME MORE ATTENTION!), but an NFL kilt takes it over the edge.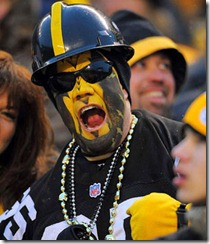 I don't know if Steelers fans started the "harhat instead of baseball hat" trend, but we'll give them the lion's share of the blame for that annoying accessory.  This guy probably works in an office park, but likes to pretend he's "blue collar" on Sundays.
  If you're not a parent, at first glance this might not look so bad to you, but that's a hat the baby is wearing.  Not an outfit or a blanket, a HAT.  You put your newborn in an oversized novelty hat? 
Also, Newborns aren't supposed to sleep with anything around them, because they can suffocate.  You especially don't put a pillow under is head, a spit-up cloth near his face, and surround him with rolled up blankets.  Steelers fans are great parents.
Next week: Divisional Round
Dallas Fans v. Washington Fans (1 v. 6)
Green Bay Fans v. Philadelphia Fans (2 v. 5)
New England Fans v. Pittsburgh Fans (1 v. 5)
Oakland Fans v. Baltimore Fans (2 v. 3)