I'm the lone Ravens fan in the mix here. I don't feel any tie to the Colts, but I do feel a tie to Unitas, Donovan, Berry, etc and I definitely spent a lot of time as a kid in Memorial Stadium rooting for the O's. I do not feel like the team, the colors, or the uniform have any emotional impact on me, though.


I do agree about the records though. Until Jeremy vomited this burgundy-and-gold tinged post, in my head the Colts had won one Super Bowl. This does drive home that they do in fact claim Super Bowl V. I guess because I separate the two in my head, I don't think of how the NFL has jobbed us. I know I didn't see a 19 hanging from the rafters in Indy, but that would have pissed me off too.

I think we Baltimore fans (I'm from Salisbury so I can't claim to be a native, but I do live in the city now) are in a tough position. We're accused of having an inferiority complex due to our proximity to Washington, Philadelphia and New York. There's probably some truth to that, even if it is an apples to oranges comparison. We certainly do not feel inferior to Indianapolis, which is, by all accounts, a zit on the ass of America. Still, we feel rightly slighted. The more we draw attention to it, the worse we look. We know that, but we won't let it go.

I think we will have to accept that the Colts' departure and Tagliabue's botching of the situation is akin to the Tuck Rule. We definitely got screwed. The league learned from their mistake and rectified it with the Browns, but they're not sending the Raiders to Super Bowl 36, and they're not giving the honors back to us now. We got gypped by a bad call (which we should be getting used to by now...), and there's no making it right.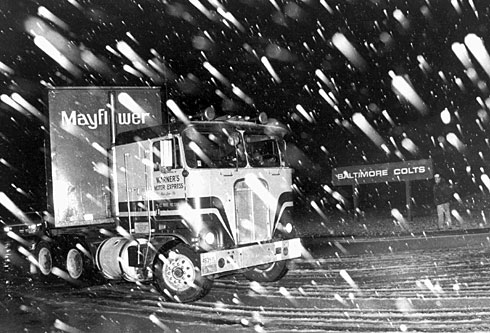 I'm 29 years old. I can't pretend to speak for someone who lived and breathed the Colts for decades. I do know, now, that we are going to have to find a way to be reasonable. There is no way that the current Colts meant to reference Unitas with their United We Stand slogan. It was clearly a band-aid over their "bench the starters" gaffe in Week 16.

You know how I know that? The people who fill those seats barely know who Unitas was. It would be a nonsensical campaign. Try to remember that today's 30-year-old was born in 1980. I was, and I didn't even see the connection.