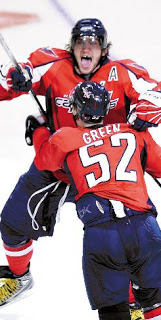 I don't watch a whole lot of hockey, but I do know that if you have a 2 goal lead going into the third period, you should probably try to protect it.

The Philadelphia Flyers apparently don't know that, since they sleepwalked (sleepskated?) through the biggest period of hockey they've played all year. Mike Green brought the Caps back from a 4-2 deficit with 2 goals in the first 7 minutes of the third period. Then Alex Ovechkin gave Caps fans a storybook ending with an amazing takeaway and the game-winning goal with under 5 minutes to go.

Verizon Center looked like it was rocking tonight, and the Capitals reminded their fans why the playoffs are the time that casual sports fans start caring about the NHL. The game showcased just about everything you could ask for in an exciting hockey game: a comeback, great hitting, and great drama.