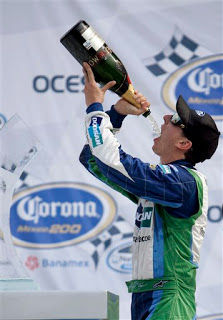 Kyle Busch continued his rampage through the NASCAR Nationwide Series this week in Mexico City. It was his third NNS win in a row, and his first NASCAR road course win. He's currently 2nd in points in the Sprint Cup Series, 3rd in points in the NNS, and 1st in the Craftsman Truck Series.

"Rowdy" Busch is driving in almost every NASCAR sponsored race every weekend, and he's winning more than his fair share. He's looking really strong this year, but just how good of a driver is he?

For my money, he's the most skilled driver in any NASCAR series today. It's tough to argue with results, and the way he has dominated the feeder series speaks volumes. This isn't like Kevin Harvick over the last few years, when he put a lot of time and energy into his Nationwide (then Busch Series) cars. Kyle Busch is pretty much just showing up at the racetrack to drive Nationwide or Truck races.

It's very difficult to judge driver ability, especially in NASCAR, where small car differences, track position, and a lot of luck come into play in every race. One thing seems certain, though, and that's the fact that there aren't many drivers better than Rowdy.

I'd like to see how he would fare in an open wheel car, either IRL or a test in a GP2 or Formula 3000 car. There is a lot of skepticism (some of it deserved) among open wheel fans that NASCAR drivers don't have to be very skilled. I think Busch is the type of guy who would be successful no matter what he is driving.

Other thoughts on this weekend's racing:

The Nationwide race in Mexico City is my favorite event of the year that no one else watches. NASCAR fans don't tune in because it's the Nationwide Series, it's a road course, and it's in Mexico. Open wheel fans don't tune in because it's NASCAR. Apparently, this year even Mexican fans didn't even bother showing up. It's always an exciting race on a fun track, with drivers ranging from road course experts to NASCAR regulars to hometown Mexican drivers. The diversity of driver skill makes for some interesting incidents, because there's always a few cars on the track that really shouldn't even be there. Hopefully the NNS (or even the Sprint Cup) will be back to Mexico City next year.

Congrats to Danica Patrick on her first win. I'm glad she won't have to hear the Kournikova abuse any more ("yeah, she's hot, but she's never won anything"). Her win came at a perfect time to generate interest in the IRL-Champ Car merge next weekend. Hopefully the combined series will be more successful than its two predecessors.

I watched some of the Champ Car Grand Prix of Long Beach, and I can't believe that series has survived this long (and still has a TV deal). I used to follow Champ Cars reasonably closely when the series was called CART, but I recognized very few driver names. It will be nice to see some star power (in addition to Will Power) coming to these great Champ Car tracks.