Breaking news at ECB, courtesy of Michael Lee, Wizards beat reporter, at Washington Post.com . Apparently plea discussions have broken down and Gilbert Arenas will be charged with felony gun possession.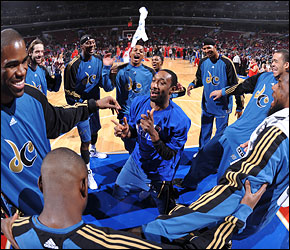 Last week, I broke down the possible charges that Arenas would face here. Although there was spirited discussion in the comments section debating this issue, it appears that the grand jury or the U.S. Attorney's Office (as of right now it is unclear whether the charges stem from a grand jury indictment or an "information" filed by the U.S. Attorney's Office) does not believe that the Verizon Center is Gilbert Arenas' "place of business" within the places where carrying an unlicensed firearm would only result in a misdemeanor. As speculated in the link blog post, this was the most likely outcome from the grand jury.

For each felony charge, Arenas will face a maximum penalty of 5 years incarceration and a $5,000 fine. Each weapon will result in an independent charge. Even though it is undisputed now that there were four weapons, under the doctrine of merger, Arenas would only face one charge for the same incident because the same incident involved all four guns (therefore he would face a maximum of 5 years in prison -- not 20 years, five for each gun).

ECB will continue to track this story as two of the four of us are both sports fans and law geeks.