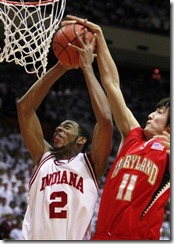 We're at the point in the basketball season where we start to have an idea of how good teams are.  Before now, it's all conjecture, but now that the pre-season tournaments are over, we can take stock.
So how good are the Terps this year?  Obviously, the Top 25 ranking was a bit generous, especially if Greivis is going to have a cold streak, but I'm optimistic for the season.
Here's what we know about the Terps after some tough losses and a few decent wins:
The team has heart
During the Maui debacle, I didn't see any lack of effort.  It just seemed like shots weren't falling.  Some years the team has looked like it doesn't care that much about winning, but I don't see that this year.
Sean Mosley and Landon Milbourne have improved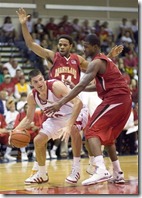 I think all Terps fans had big hopes for these two this year, but I'm shocked at how much better they look.  Milbourne is a reliable shooter and is emerging as a team leader.  Mosley has shown ability to create his own shot and is always scrappy on defense and fighting for loose balls.  Both guys always play with a ton of energy, which takes some pressure off Vasquez to be the emotional center of the team.
Eric Hayes has found his role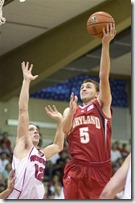 He's not Steve Blake, and it looks like he's finally comfortable admitting that.  Hayes is going to be consistent on defense and a spark on offense when we need it.  He doesn't need to be the center of the offense, and he shouldn't be with Vasquez available to run the show.  Maryland has lacked a reliable outside shooter for the past few years (even Mike Jones was frustrating), so I think he'll be a big advantage in ACC play when we see a lot of zone and have to shoot over it.
The freshmen bigs are good but frustrating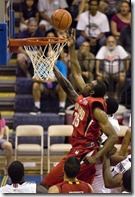 I have really high hopes for Jordan Williams and James Padgett.  They're going to fill the holes left when Boom Osby and James Gist left two years ago, but there are going to be a lot of missed free throws along the way.
Both guys are incredibly athletic for their size and run the court really well.  If they continue to work on shooting, in a couple years we might have two guys to fill the Lonny Baxter sized hole we've had in the roster.
I'm really excited to see how they match up against ACC competition.
The team struggles when Vasquez shoots poorly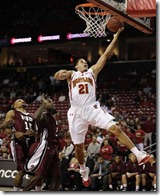 After leaning on Greivis so heavily for the last few years, the Terps are going to have some rough games when he has an off night.  Maryland has enough weapons to compensate for the loss in production most nights, but I think they need to get used to nights when he can't get an open shot or when he's not shooting particularly well.  Vasquez is still the best player on the team, but the problem is other teams know this too.  The rest of the team needs to make opponents pay for keying on Greivis.