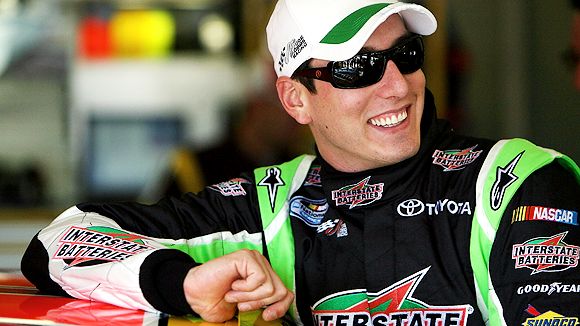 The Obvious:
Kyle Busch (18 - M&M's): No one is hotter than the younger Busch brother, and he has the pole at his home track in Vegas. You have to say that he looks pretty good with Gibbs Racing and Toyota. He could lead the points in all three NASCAR series after this weekend.

Jimmie Johnson (48 - Lowe's): An obvious choice any time, Jimmie has won three straight in Vegas, and a number of analysts are saying the Hendricks cars are due.

Sleepers:
Greg Biffle (16 - 3M): In a funk after 2005, Biffle's in the top 10 in points and qualified in the top 10 in spite of being one of the first ones out (track gets faster as it gets later).

Denny Hamlin (11 - FedEx): Struggling to 31st in points after a crash last week, Hamlin looked great last year and averages a 6th place finish in this race.

Winning Isn't Everything:
Brian Vickers (83 - Red Bull): After finishing outside the magical top 35 last year, Vickers is having a great 2008. Not only has he made all three races on time, but he's in the top 12 after the first two. A solid finish in Sin City will put him in great shape to be in the top 35 after 5 races, meaning he will be in good shape to make a lot more races this year.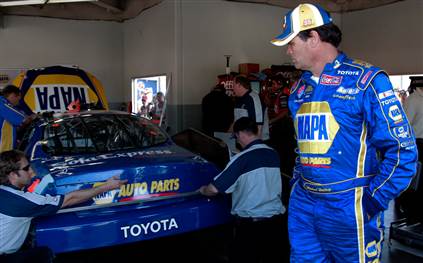 Michael Waltrip (55 - NAPA): After starting only 14 races last year, Waltrip has run in the first three and really needs to capitalize on this opportunity. Only 29th and with some good teams behind him (Hamlin, Mears), Waltrip needs to try to move up the standings in case he doesn't qualify the next couple weeks.

Casey Mears (5 - Frosted Flakes): Even Tony the Tiger doesn't have anything good to say about two accidents in the first two races. Casey needs a good result to move out of 42nd. It's pretty unthinkable to envision a Hendricks car needing to make it on time.

Rookies:
Sam Hornish, Jr. (77 - Mobil): The recipient of Penske teammate Kurt Busch's points to allow him to qualify for the first five races, he hasn't done much with it. Currently in 33rd, he really needs to move up in the next three, or he will be in trouble when he has to qualify on his own.

Patrick Carpentier (10 - Valvoline): Without such help, this is the first race Carpentier has been able to make on time. He's been slow in practice, but it'll be interesting to see what he can do.