In case you're among the 99% of Americans who don't follow Formula One racing, there has been an on-going rift between Lewis Hamilton, last year's phenom rookie Brit, who happens to be F1's first black racer, and his former McLaren teammate Fernando Alonso, a Spaniard. Spaniards blame Hamilton for being McLaren's golden boy last year, which they say cost Alonso a third straight driver's championship.


When Hamilton was testing in Spain last month he should have expected to receive taunts from the Spanish fans,
according to Alonso
. After all, when Alonso did his "lap of glory" after winning at the Italian Grand Prix at Monsa last year, he was subjected to the horrors of obscene gestures. I don't think Alonso quite has a grasp on the issue.
The obscene gestures Alonso endured were an impromptu show of disgust at the victory of an unpopular driver. The Spanish fans who attended Hamilton's practice wore blackface and afro wigs and carried signs reading "Hamilton's Family". They planned a racist attack in advance, for a practice, and carried it out. That's not quite the same thing. Judging by the shoddy quality of the t-shirts and wigs, I'd have to assume that these four could never afford to attend an actual race.
spacer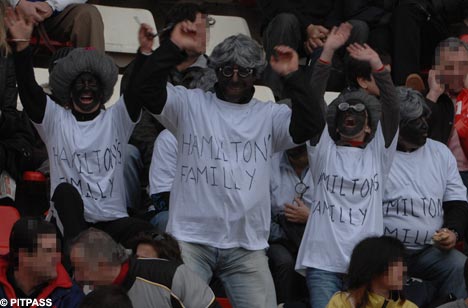 blahblahblahblah
Hey F1 - I just investigated the incident
For the record, I don't even find the outfits offensive because they are so poorly done. It's one thing to be unambiguously racist, as European fans have proven themselves time after time. It's another to be totally unfunny and unoriginal about it. I'm pretty sure the second from the left is actually wearing Dave Chappelle's white-guy news anchor wig. If you are going to potentially cost your nation two huge revenue events, at least execute an original concept.