If the season ended today, and the playoffs went according to seeding, this would be the 2009 NFL Draft Order:

1) Detroit (0-15)
2-3) Kansas City/St. Louis (2-13)
4) Cincinnati (3-11-1)
5) Seattle (4-11)
6) Oakland (4-11)
7) Cleveland (4-11)
8) Green Bay (5-10)
9) Jacksonville (5-10)
10) San Francisco (6-9)
11) Buffalo (7-8)
12) Houston (7-8)
13) San Diego (7-8)
14) Washington (8-7)
15) New Orleans (8-7)
16) Denver (8-7)
17) Arizona (8-7)
18) Philadelphia (8-6-1)
19) New York Jets (9-6)
20) Chicago (9-6)
21) Dallas (9-6) (traded to Detroit in Roy Williams deal)
22) Tampa Bay (9-6)
23) Minnesota (9-6)
24) New England (10-5)
25) Atlanta (10-5)
26) Baltimore (10-5)
27) Miami (10-5)
28) Indianapolis (11-4)
29) Carolina (11-4) (traded to Philadelphia)
30) Pittsburgh (11-4)
31) Super Bowl Loser (New York Giants or Tennessee)
32) Super Bowl Champion (New York Giants or Tennessee)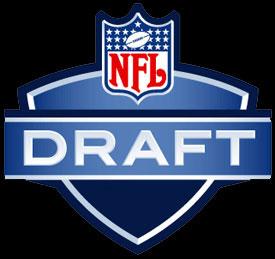 The playoffs teams as of today are Arizona (8-7), Denver (8-7), Minnesota (9-6), Tampa Bay (9-6), Atlanta (10-5), Baltimore (10-5), Miami (10-5), Carolina (11-4), Indy (11-4), Pittsburgh (11-4), New York Giants (12-3) and Tennessee (13-2). This draft ordering assumes the playoffs go according to seed (3 over 6, 4 over 5, 2 over 3, 1 over 4, 1 over 2).

The draft tiebreakers are as follows:

1) Worst record picks first, and teams are ranked by record, worst to best. A non-playoff team takes priority over playoff teams with the same record. Playoff teams with the same regular season record are prioritized by the round in which they exit the playoffs.

2) Ties are broken first with strength of schedule (total number of wins by 16 opponents, or average winning percentage of all 16 opponents, the result is the same)

3) If teams are same division, divisional playoff tiebreakers

4) If teams are same conference, but not same division, conference playoff tiebreakers

5) Coin Flip

Kansas City and St. Louis have the same strength of schedule (opponents have 128.5 wins). Since they are in different conferences, if they remain tied after Week 17 a coin flip would decide the draft order.

Seattle, Oakland and Cleveland are all 4-11, but Seattle's SOS is 119.5, Oakland's is 125, and Cleveland's is 137.5.

Green Bay's SOS is 123 to Jax's 128.5.

Washington's SOS is 115.5 and New Orleans' is 118. Denver and Arizona are both currently playoff teams, so they lose ties to WAS and NO. Denver's SOS is 109 to Arizona's 117.5.

The Jets, Bears and Cowboys all have nine wins, but the SOSs are 111.5, 112.5 and 119.5 respectively. Tampa Bay and Minnesota are playoff teams, so they pick after the other three nine-win teams. Tampa is a wild card currently, and thus exits the playoffs earlier than Minnesota, so they win the tiebreaker that way. They also would win it on SOS.
Among the 10-win teams, New England picks first by virtue of not being in the playoffs. Miami, as a division winner, is projected to win their first round game, so it loses tiebreakers to Baltimore and Atlanta. Atlanta picks ahead of Baltimore by virtue of SOS, 110.5 to 124.5.
Among the 11-win teams, Indianapolis is projected to lose first, based on seeding, so they pick first. Carolina picks ahead of Pittsburgh as they have an SOS of 118 to Pitt's 125.5.
The Titans cannot pick better than 29th.