The ACC improved to a perfect 10-0 in ACC/Big 10 challenges, but the result was a little closer than in past years.  The Big 10 managed 5 wins of the 11 matchups, mostly on the strength of the bottom half of their conference.

The Terps did their part to contribute to the ACC's victory, notching a win at home over Michigan.  The game was a bit closer than many Maryland fans would have preferred, but for this season, at least, the Terps will be happy with wins however they get them.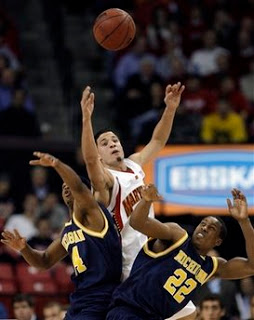 It looks to be another up-and-down season for Maryland.  I'll be thrilled with an NCAA tournament berth, but a finish in the top half of the ACC would qualify as a successful season.  
We're likely to endure another round of "Fire Gary" sentiment at some point this season, but I'll say right now what I've said for years: it's his job until he quits.  Ignoring the fact that Gary has earned our loyalty through some rough years, there really isn't anyone waiting in the wings to take over.  I like our chances with Gary much more than starting a long-term rebuilding process with a new coach.
As for the Michigan game, here are some quick-hit thoughts: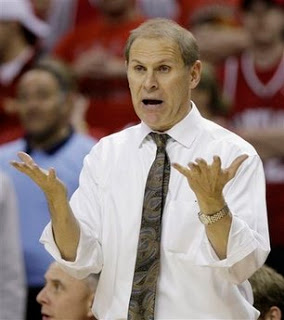 Hey, at least I'm not as bad as Rodriguez
It must suck to live in the state of Michigan this year.  Look at what they've had to suffer through: the Lions don't have a win, the Wolverines football team is awful, the moribund state economy is getting even worse, their main industry is a laughingstock, the Spartans basketball team (which was supposed to be a Final Four contender) is plumeting through the standings.  I guess all I can say to our Michigan readers is this: maybe you should move.
Greivis put up another incredible performance, going for 23 and 12 with 6 assists.  He's clearly the go-to guy on the team, and when he's hot we'll be tough to beat.
The rest of the starters also looked good, with everyone except Adrian Bowie in double figures.
Bowie looked like he couldn't find his shot all night.  I don't know whether to credit the Michigan defense, or whether his breakout performances earlier in the season were flukes.  We really need him to be a reliable scorer this year.
Landon Milbourne played his best game of the year so far.  
Braxton Dupree didn't play, apparently for missing class.  The last thing that guy needs to do is get further on to Gary's bad side.
The bench only managed 11 points, which won't cut it against ACC competition.  Some of that is due to the fact that Dave Neal started, so his 12 points don't count towards the bench total, but Mosley and Gregory in particular had enough minutes to produce a lot more output.
I saw a lot of hustle.  The Terps (especially in the second half) fought for loose balls, jumped into passing lanes, and basically looked like they were trying hard (which they don't always do).  That's a good sign for the rest of the season.
The Terps ended the game with a 35-24 rebound advantage.  Historically, when Maryland teams rebound well, they win.
Eric Hayes is 16-16 from the free throw line this year.