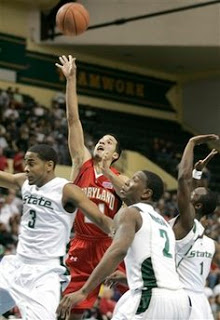 I don't think I can overstate how important that victory over #6 Michigan State is. This Maryland team has had some consistency problems earlier in the season and had yet to play with the kind of confidence we've come to expect from a Gary Williams coached team.

Last week the Terps struggled to beat Vermont at home, but tonight they blew Michigan State off a neutral court. That's exactly the type of win the tournament selection committee loves to see, and it's not too early to start talking about building a tournament resume.

Everyone played well for the Terps tonight, but I have to start off by talking about Dave Neal. He's been the butt of a lot of jokes over the years, and there are plenty of Maryland fans who still cringe every time he steps on the court. But tonight he played like a senior: 17 points, 4 rebounds, and 3-for-3 from beyond the arc. One thing I've noticed about Dave Neal is that he's improved markedly each year. His freshman year he played mainly in garbage time, but as he's matured, he's earned more and more playing time. On a team whose biggest weakness is big men, Neal is going to be a huge contributor this year.

One of my big questions heading into the season was how much Braxton Dupree had improved over the off-season. Through the first three games, that was still an open question. Tonight, he answered any critics with the most aggressive performance of his career.

Adrian Bowie and Sean Mosley also turned in unexpectedly huge performances.

The big difference between this game and a lot of Terps games over the past few years is that they played hard for 40 minutes. They built a lead, the Spartans fought back, but Maryland didn't give up, regained the lead, and won the game running away.

With the tough victory over Vermont and tonight's huge win over MSU, we're seeing the Terps mature before our eyes. There are going to be some rough spots ahead this season, but Maryland is a very dangerous team that will punish any team that overlooks them.