I saw something last night from the Terps that has been missing for a few years: killer instinct.  Instead of playing by the normal Maryland BB&T script (show up expecting another pushover home non-conference game, look surprised that there are tons of GW fans there, come out flat, shoot poorly because the Verizon Center rims hate you, etc.) the Terps came out fired up, totally demoralized the Colonials in the first few minutes, never let up until the outcome was decided, and cruised to an easy victory.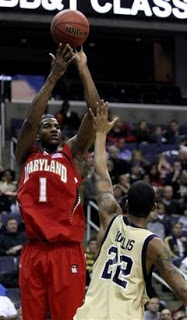 After losing two straight to the Colonials, it was nice to finally get the best of them.  
I'm not going to overreact to a win over a bad non-conference opponent, no matter how dominant the performance.  But the Terps this year look a little different than in the past few years.  That win over Michigan looks even better than it did last week, now that the Wolverines beat Duke.  That gives the Terps victories over two of the best teams in the Big Ten (Michigan and MSU).  Maryland's only two losses came against Gonzaga and Georgetown.  
The Terps will struggle all year against teams with good big men, but this team is definitely good enough to make the tournament.  
More thoughts on last night's game:
Huge breakout game for Landon Milbourne (20 pts).  If Gary can get that kind of production out of him every game, the Terps will be in good shape.
The bench still struggled to put up points, but I thought Mosley and Gregory in particular looked really good.
Looks like Braxton Dupree is going to have to earn his way back into some playing time.
I can never decide if I like John Feinstein as a color annourncer.  He tells some interesting stories, but he's also kind of annoying.  If he did more than one Terps game a year I'd probably hate him.  
I guess I need to go back to listening to Johnny Holiday while watching the Terps on TV.