Yesterday, Brett Favre made a few comments that some in the media have taken to indicate that he is not returning for another season next year. "I had a blast working with these guys. It was a lot of fun", for example. Of course, any player on any non-playoff team could have made the same comment, and it would have just been standard end-of-season wrapup talk. When Favre says it, everyone picks apart each word of the off-the-cuff statement. He had a blast. Why didn't he saying he is having a blast? He must be retiring.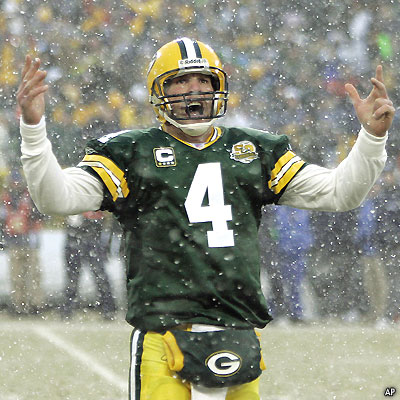 Here's the thing people tend to forget, or at least overlook.
Brett Favre is a recovering addict and alcoholic
. [NOTE: To my knowledge Favre has never described himself as an alcoholic, but his wife Deanna
revealed in her book
that he checked himself into alcohol rehabilitation in 1999. He has discussed his addiction to Vicodin.] While he hasn't had any public battles with addiction in many years, he almost certainly still possesses much of the same style of thinking.
For example, he procrastinates and he is indecisive. Why quit today when he could just quit tomorrow? He constantly resets his own deadlines, putting off any decision that might paint him into a corner or have some sense of finality. He is also very selfish, not caring what his actions do to the people around him. He seems to tend towards the pain he knows (playing) rather than take a risk on an unknown (retirement). Also, like a firefighter who dabbles in arson just to create rescue scenarios for himself, I really think Brett Favre subconsciously at times sets up rescue scenarios in games. He doesn't just want to win. He wants to win the way he wants to win.
When he finally did announce his retirement, I guarantee these thoughts kept popping into his mind. "It wasn't as bad as I remember. Sure, there was some pain, but it was fun too. I'm older and wiser now. This time will be different. I don't feel like I quit the right way. I still need to get it out of my system." He minimized the bad things and inflated the good.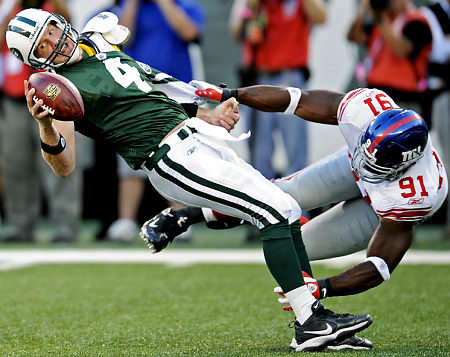 And so it started with a little nibble, a little text message taste back to the Packers. It progressed into a full-blown football relapse. Favre was suddenly obsessed with playing football in 2008. It became obvious, quickly, that he wasn't going to be able to control how it would happen. His fantasy of leading Minnesota or Tampa Bay into the playoffs was smashed by the Packers. They essentially said, "We want you out of our life. We love you, but can't handle you anymore." Fans, not privy to the torture Brett forced the Packers' front office to endure, said the usual outsider stuff. "How could you turn your back on him after everything he did for you?" Others said, "He'll change his mind again rather than go play in New York. This can't be what he wanted." It wasn't, but Favre surfaced with the Jets, looking slightly nauseous but determined to prove that he was right all along.
Fast forward to today. As of right now, Favre is probably utterly convinced he is not going to play for the Jets next year, or anywhere else. His shoulder hurts. He looked pretty old. He played pretty poorly, especially late in the season. He didn't recapture the glory of those Super Bowl runs of a decade ago. He's probably coming to grips with the idea that he'll just never get that feeling back. So he probably will announce his retirement some time by the end of February.
By March, April or May, he'll start feeling really good again. The Jets will still be without a long-term quarterback plan, with Kellen Clemens tentatively preparing to be the Week 1 starter, barring a trade. Brett Ratliff, from Utah, is the only other QB on the roster, and the free agent market is looking very thin. They won't make any big moves because they'll wonder if Favre will want back in. The same thoughts will keep creeping into his head, and he'll know the door is open.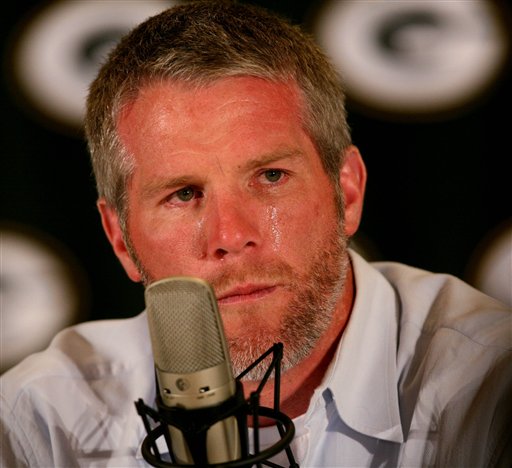 We fans will all know that he would be a moron for coming back again. We think in terms of tarnishing his legacy. It is extremely unlikely that the Jets could win the Super Bowl next year, as they would still have a lot of AFC teams to suddenly leapfrog to even be a legitimate contender. The media will fall for the new retirement hook, line and sinker, too. They love to compare him to Unitas, who spent his final forgotten year in San Diego. They always seem to forget that Joe Montana, Marcus Allen and Emmitt Smith played MULTIPLE years in exile.
I don't think Brett particularly cares about violating our notions of how a player is supposed to maintain his image and legacy. I think Brett cares about what Brett wants, and I think that Brett is going to want to play football again in 2009.