So 2008 has come to a close. Sports Illustrated has proclaimed it to be the best sports year ever. I'm sure this is the source of major debates around various blogospheres and frankly I'm too tired from New Year's Eve to address that issue. So instead, I'll focus on my top-6 stories of 2008. And I promise that there will be nothing related to Federer-Nadal, Tiger's U.S. Open victory, Jimmie Johnson's Threepeat, or anything else in those sports that I couldn't really give a damn about...

One



Frenchmen +
Gutsy unexpected performance =


Champions
Jason Lezak's anchor leg of the U.S. men's 4x100 freestyle relay in Beijing is bar none the top sporting event of the year. I can still watch the NBC Olympics footage of this and get goosebumps. If not for this, we wouldn't have been able to watch for the next six nights and determine whether or not Michael Phelps' sisters were fortunate enough not to share the same facial genetics as their brother. It was made all the sweeter by the fact that Lezak beat the choking dog Frenchman Alain Bernard who had talked all sorts of smack about how the Americans were going to lose. And, hey, let us all add Jason Lezak to the extraordinary list of Jewish athletes (Shawn Green, Kevin Youkilis, Sage Rosenfels to name a few).
Two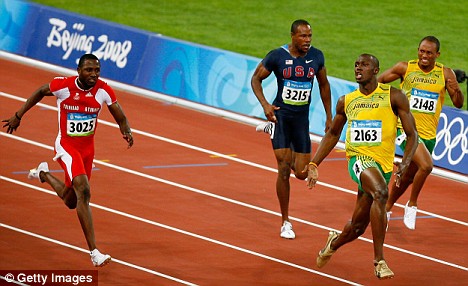 Usain Bolt manages to crush the competition in the 100 meter dash in Beijing while showboating for the final 20 meters. The result - a fantastic celebration, an uncomfortable interview with Bryant Gumbel on
Real Sports
, and Jacques Rogge, the head of the IOC, getting his panties in a bundle. Listen Jacques, maybe you should focus more on your countrymen choking away a certain victory in swimming. And frankly, anybody who can continue running sideways at the speed Bolt did without falling on his face, I have plenty of respect for.
Three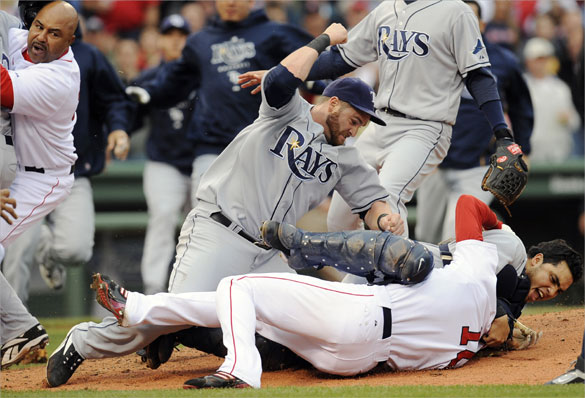 Tampa Bay Rays give hope to fans of mediocre baseball teams everywhere, especially yours truly and the other 9,000 fans of the Washington Nationals. Not only because they made it to the World Series, but because they decided that in doing so, they'd routinely brawl the friggin bandwagon fan lovin' Boston Red Sox and knock the Yankees and their $2 trillion payroll out of the postseason. Winning AND playing with heart... please pay attention Misters Zimmerman, Kearns, Milledge, Acta.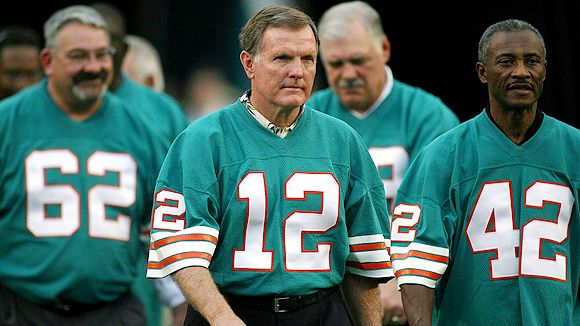 New York Giants spoil Patriots undefeated season with less than 2 minutes left in season. And all members of the 1972 Dolphins simultaneously soil themselves with joy when David Tyree makes the over-the-helmet catch and when Plaxico Burress subsequently catches the game-clinching TD pass on a perfectly-executed fade pattern.


Tom Brady goes down in Week 1 of 2008 NFL season. This isn't the story. What is the story are the thousands of fantasy football owners who just lost their first round pick after less than 30 minutes of football and had kindly donated their buy-in fee to the eventual winner of the league.
Six
Oregon State Beavers basketball becomes relevant again. Not because of any success which they can hope to experience on the basketball court. But because their coach just happens to be the brother-in-law of the newly elected President of the United States. Not so sure that this will help recruiting as much as Craig Robinson would hope for. "Hello top 100 recruit. I know you have offers to play in Los Angeles for UCLA and in Washington, DC for Georgetown. But why not come to Corvallis, Oregon and play for me? Hey, by the way, did you know that I'm Barack's brother-in-law?"