After Michael Phelps won the gold in the 4x100 individual medley this evening, I kept watching to see the medal presentation and national anthem. The Star-Spangled Banner seemed to start awkwardly, beginning in the middle of the word "O". It ended somewhat more suspiciously, totally cutting to Sopranos' silence at the final couplet - "O'er the land of the....." Either there was a technical glitch, or someone wanted to point out that they don't find us particularly free or brave.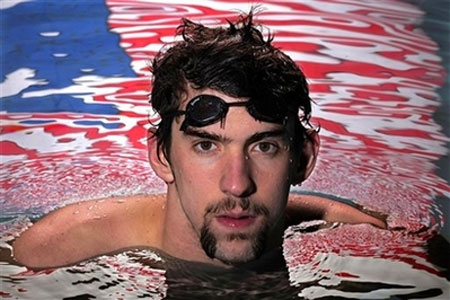 blahblahblahblah Michael, unfortunately, shaved the porn 'stache.
President Bush was in attendance. Both he and Michael Phelps nervously laughed when the anthem cut out. Those silly Chinese.

Most likely we witnessed a technical glitch, but it is worth noting this confluence of factors:

- The event was televised live in the U.S.
- The event was one of a very few President Bush will attend
- President Bush spoke out earlier today over the lack of religious freedom in China
- The Star Spangled Banner cut out RIGHT before the word "free".

Maybe a coincidence. Definitely some plausible deniability. We'll see if this turns into a real controversy.