The Ravens and Patriots met in Foxboro tonight for a preseason matchup, and it was not pretty. The Ravens technically won 16-15.

For the Patriots, Brady and Moss sat, along with other starters. The Ravens sat McGahee and others. Kyle Boller got the start for the Ravens, followed by Troy Smith and finally a brief appearance by first-round draft pick Joe Flacco.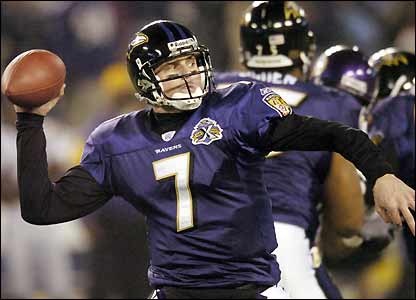 Boller, the Eternal Rookie, started brilliantly, hitting Derrick Mason a few times and threading some beautiful passes. Then the Pats got to him. He fumbled the first time he was hit, as is his habit. He later threw an interception where the only doubt was whether the two Patriots defenders blanketing the intended receiver could decide which one of them was going to take it. Stop me if you've heard this one before.
Troy Smith played the middle 30-35 minutes of the game, and generally made great decisions with the ball. His biggest failing was in making accurate throws, which shouldn't be surprising since Cam Cameron has tried to tweak his mechanics to allow him to throw the ball more quickly. On some throws he confidently strode and hit his receivers. On others he missed by yards.
Joe Flacco made a pretty good case for worst professional debut of all time. His first snap and pass should have been picked off. His second snap resulted in a lost fumble. He ended the game 0 for 3 with a lost fumble, and none of the three passes were close to complete.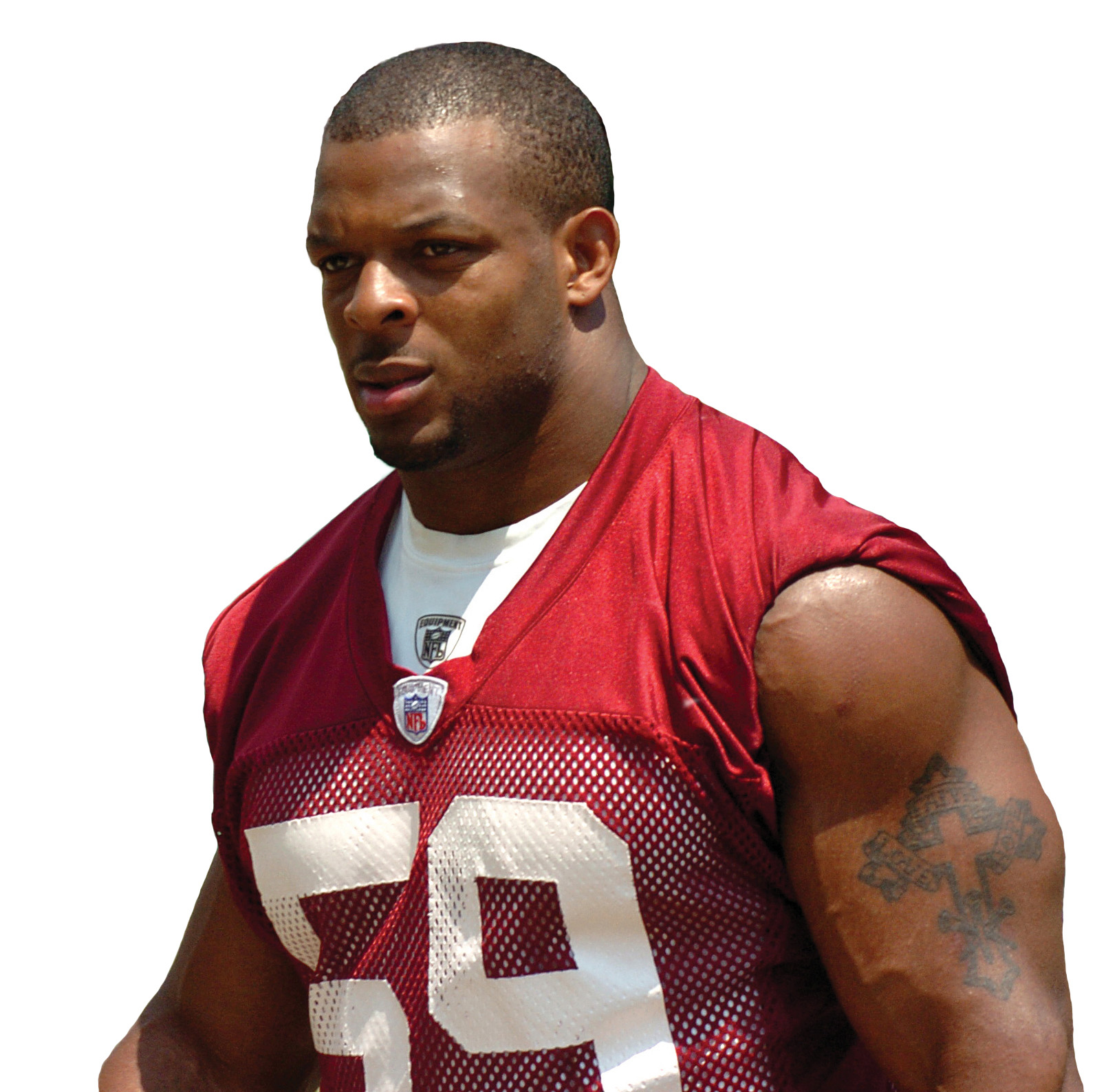 bblahlahblah
The Skins are so good at LB they gave up on Robert McCune
There were highlights for the Ravens though. New free agent acquisition Fabian Washington, a CB and former Raiders first round pick, had two interceptions. Free agent acquisition Brendon Ayanbadejo (the second Ayanbadejo in Ravens history) knocked down a two-point conversion attempt that would have given the Pats the lead in the 4th quarter. Ray Rice looked serviceable, though with a weak two yards per carry.
The Ravens defense was, of course, excellent. Ronnie Prude is trying to keep his spot on the team, after his excellent campaign two years ago was tempered quite a bit by his disappearing act last season. The Ravens have a glut of linebackers, with Ray Lewis, Bart Scott and Brandon Ayanbadejo solidly entrenched. Last year's draft pick Prescott Burgess would seem safe, as would Ray Lewis' backup Nick Griesen. Gary Stills is a Pro Bowler on special teams. That leaves quite a backlog for Antwan Barnes (also a 2007 draft pick), oft-injured Dan Cody, Edgar Jones, and my personal favorite, Robert McCune. McCune appeared to be everywhere tonight.
Yamon Figurs, though, stole the show for the Ravens. He had a 52-yard punt return that ended when he carelessly stepped out of bounds at the two. Later he had a 48-yard kick return. He looks like a totally different returner than the rookie who ended his season with a broken leg last year. Special teams were good all-around for the Ravens, who got two field goals from Stover and a third from potential kickoff specialist Piotr Czech. Coverage was excellent, as returners were stopped inside the 20 on at least three occasions.
The Patriots hardly seemed as though they were trying. QB Matt Cassel looked absolutely putrid. His replacement, Matt Guittierez, was better. He took a few sacks though and threw one of the Fabian Washington picks. The last QB, UFA rookie Kevin O'Connell from San Diego State, made poor throws but looked good scrambling.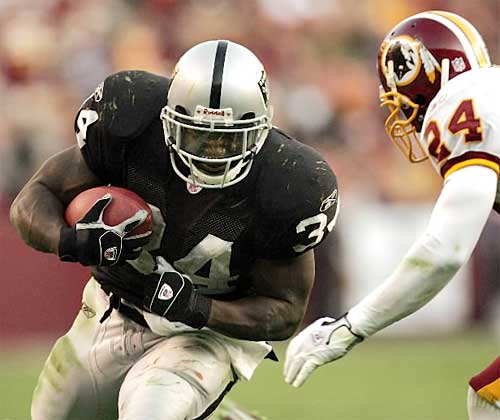 The bright spots for the Pats (other than the fact they trotted out almost entire backups) were running back and Maryland alum Lamont Jordan and rookie LB out of Michigan Shawn Crable. Crable had an interception. Jordan had some excellent runs and looked quite shifty. His size makes him a great change of pace to Maroney.
I guess the story of the night were the Raiders' cast-offs, Jordan and Washington. Well, them and the fact that the Ravens probably really wanted to win and the Pats are just biding time til they can start the divisional round of the playoffs in January 2009.