Favre tried to walk away from football, but getting so close to the Super Bowl last year gave him that itch. He so badly wanted one last shot, whether it would be in Minnesota, Chicago, Green Bay, Tampa Bay or whereever. He just needed one more run.

blahahblah
The Wrangler team might have a better shot at the AFC East
But not the Jets
. For Christ's sake, not a team in the Patriots' division, and in a conference where the Patriots, Colts, Steelers, Chargers, and probably Jaguars would be favored in any hypothetical Super Bowl matchup against the NFC team. Green Bay GM Ted Thompson got the last laugh in this chapter, but the fact is he decided to blow the whole thing up. He's going to lie in his Aaron Rodgers bed, ignoring the long, long list of first round quarterbacking busts. He's going to ignore the fact that there are still FIFTEEN active franchises that have not won the Super Bowl, and he had a chance to return just about an entire NFC Championship Game team. Favre screwed up his plans, and he decided to screw Favre. So be it.
The Jets are pretty well hedged against the very real possibility that Favre shows up in camp and realizes just how big a mistake he's made. They traded a fourth round pick, but the pick can elevate depending on the percentage of snaps Favre takes. They lose at least the 4th, but if he never plays they don't lose any more than that.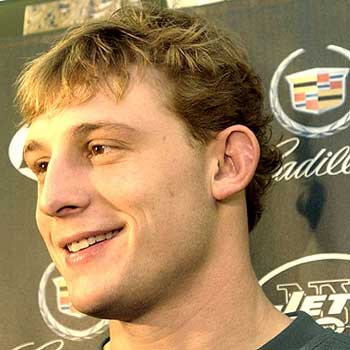 Of course, this probably spells the end of Chad Pennington's career with the Jets. Kellen Clemens might be willing to sit a year behind Favre, but Pennington is going to want out now, and who could blame him? He's probably the best candidate to end up in Minnesota.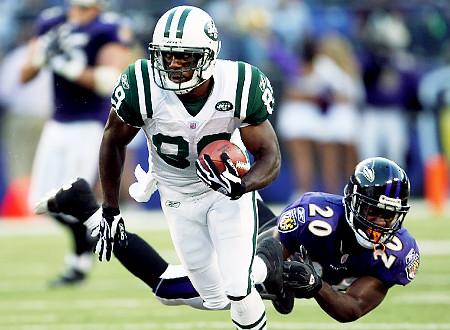 hlahblah
Cotchery has always been a possession and YAC guy, not a burner/jumper
From a fantasy standpoint, Laveranues Coles is not a total turd now. I'm not sure how much more valuable Jericho Cotchery becomes, as he's more of a possession receiver than a jump ball threat. Brad Smith, the former preseason Heisman candidate at Mizzou, likely has only marginal value.
If you're looking ahead on your calendars, Madden and Michaels do not have the Jets at all for Sunday Night Football, except in the unlikely event of selecting one as a flex game late. ESPN has the Jets trip to San Diego in Week 3 on Monday Night Football. The Jets are not currently scheduled for any nationally televised preseason games. I guess if you want to see Favre in a Jets uniform on television this year, you'll have to check your local listings for the games in your area.
What a disaster.